GTA V, 2DS drive big numbers for GameStop
New games, hardware push retailer's quarterly sales up 43% to $2.11 billion, net profit to $68.6 million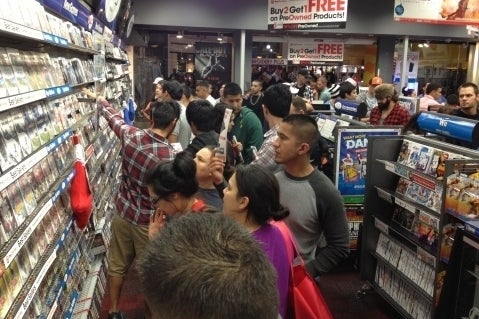 GameStop is going into the new generation of consoles with a full head of steam. The retailer today reported its fiscal third quarter results for the three months ended November 2, showing significant year-over-year growth and a return to profitability thanks in large part to the launch of Take-Two's Grand theft Auto V.
Total sales for the quarter were $2.11 billion, up 18.8 percent year-over-year. GTA V helped drive new software sales up more than 43 percent for the company, while the 3DS and 2DS pushed hardware sales up 15.3 percent. The company also posted a net profit of $68.6 million for the quarter, a considerable improvement on the $624.3 million net loss it posted for the same quarter of 2012.
"Our strong third quarter sales results give us great momentum as we enter the new console cycle," GameStop CEO Paul Raines said in a statement. "Consumer appetite for the new consoles is very strong judging by last week's successful PS4 launch and the excitement for tonight's Xbox One launch event."
GameStop is expecting its fourth quarter to continue showing growth for the company, with comparable store sales forecast to be up 2-9 percent, with diluted earnings per share ranging from $1.97 to $2.14. For the full year, GameStop has forecast comparable store sales up 1.5-4.5 percent, with earnings per share in the $3.08 to $3.25 range.