Growth of Chinese market slows to a crawl amid halt on government-issued licences
Market growth down to five per cent for first half of 2018, compared to nearly 30 per cent the year prior
The Chinese government hasn't issued a game licence since March 2018, slowing the world's largest games market to single single-digit growth for the first time in ten years.
Although still recording $15 billion revenue for the first half of 2018, growth is down to just five per cent year-on-year compared to the same period in 2017 which saw growth nearly as high as 30 per cent.
The figures come courtesy of Beijing-based research firm CNG and China's official gaming association GPC.
According to the report, while mobile gaming still accounts for the bulk of revenue in the region, year-on-year growth on the platform fell from 50 per cent to 13 per cent, despite 458 million of China's reportedly 527 million gamers using mobile.
As reported by the South China Morning Post, industry experts discussing the report during ChinaJoy in Shanghai suggested that over saturation of the market could be one cause.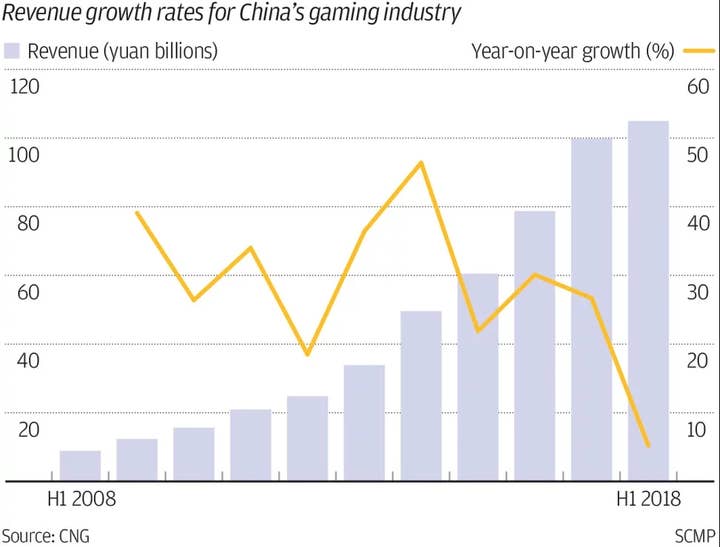 Others have pointed to the dearth of game licenses being issued by the newly formed State Administration of Radio and Televisions (SART), which recently replaced the State Administration of Radio, Film, and Television (SARFT) as part of a government overhaul in China.
"There are already thousands of gaming licenses pending approval," Gao Baowen, gaming analyst with Shanghai-based Orient Securities, told the South China Morning Post
"Judging from the monthly approval number of 700 to 800 titles, the existing applications will need two-to-three months to be approved.
"This will mean a product shortage during the summer holiday, which will hurt the industry's growth."
The slowdown doesn't appear to have affected Tencent or NetEase in any considerable way, with the latter posting a 21.7 per cent year-over-year increase in its Q2 financials.
However, both firms were able to releases major games during the quarter as licenses for Tencent's MU Awakening and NetEase's Identity V were issued at least six months before launch.