Google AdMob adds Pangle as a bidding partner
The ad network of TikTok for Business has joined Google AdMob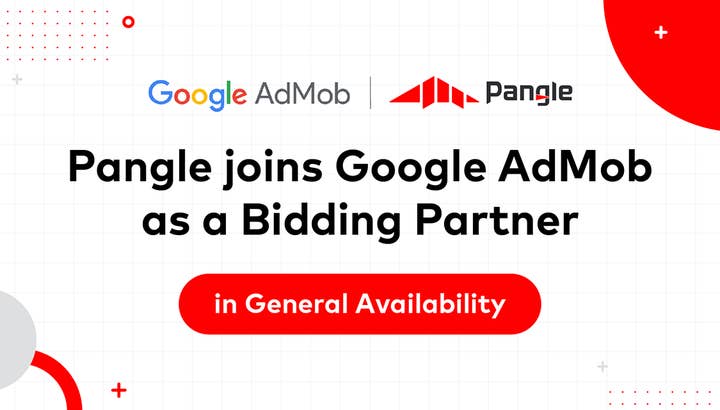 Google AdMob's app publishers can now access Pangle's exclusive TikTok for Business ad demand.
Pangle, the ad network of TikTok for Business, has joined Google AdMob as a bidding partner, which means mobile app developers and publishers can boost their revenue with exclusive ad demand from TikTok for Business advertisers. Google AdMob is Pangle's newest mediation partner, and joins the likes of MAX, ironSource, DT FairBid, Appodeal, AdMost, Nimbus, TradPlus, and TopOn.
Following a successful beta, the product integration is available to all app publishers from today. Mobile publishers and developers that integrate Pangle with Google AdMob will be able to display ads in various non-intrusive formats, including banner ads, interstitial ads, and rewarded video ads that give app users a choice to watch advertising content in return for in-app incentives.
The latest partnership follows Pangle's recent expansion into offering its service to advertisers and publishers around the world.
"Pangle's partnership with Google AdMob gives mobile app publishers the ability to maximize revenue streams with access to a trusted ad network with exclusive ad demand from TikTok for business," said Leon Zhong, Head of Business Development at Pangle. "App developers using Google AdMob can benefit from Pangle's strong monetization performance in emerging markets around the world."
A select group of mobile app publishers have been loading and displaying ads from Pangle through bidding during the SDK's beta.
"Adaric experienced great performance results in AdMob mediation through Pangle bidding with an exceptionally high fill rate and eCPM," said Celia Wang, Monetization Manager at Adaric Music.
"As well as ensuring a higher ARPU, the convenience of the bidding mode also saved us a lot of time with coding and configuration, and integrating the SDK was a seamless process. Adaric is delighted to be working with both Pangle and Google AdMob as a trusted partner."
App developers and publishers interested in integrating the Pangle SDK can do so by logging into their Google AdMob accounts and following the set-up instructions. For Android, click here.
For iOS, click here.
For Unity, click here.
The partnership follows recent updates to Pangle's publisher platform. These changes include a new streamlined sign-up process, faster transitions from creating to testing ads, enhanced brand safety controls, and an improved reporting system.