Gaming is the least welcoming online venue for women
But Pew survey points to social media as the most common venue for online harassment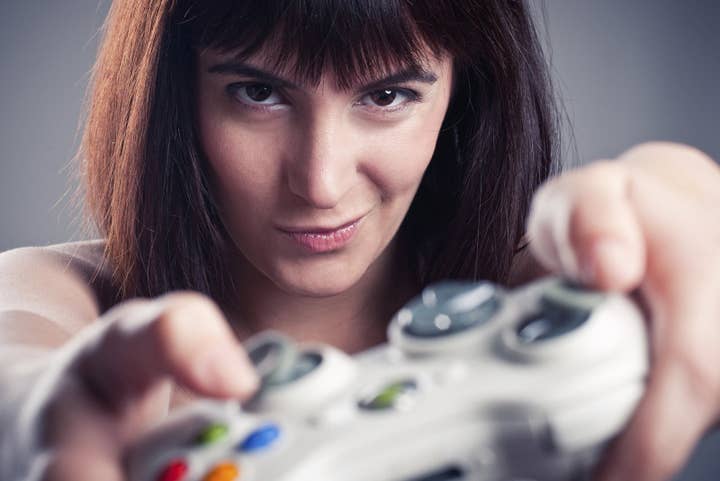 A new survey has found online gaming to be the least welcoming internet environment for women.
In a survey of nearly 3,000 internet users, conducted by Pew Research, only 3 per cent of respondents felt that online gaming was more welcoming toward women, versus 44 per cent who felt it was more welcoming toward men.
Compared to the other online environments considered, Pew observed that online gaming returned the "starkest results," in both the gulf between which gender was most welcomed in that context, and the number of respondents who felt it was equally welcoming to both genders.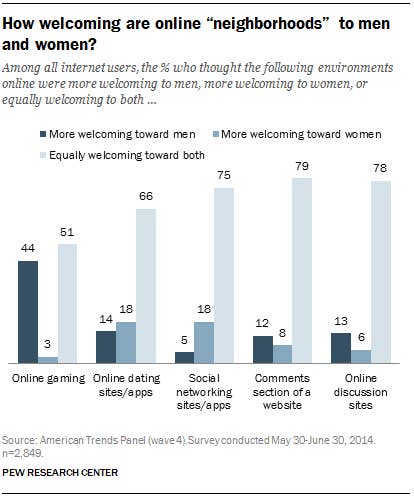 In terms of the bigger picture, the survey found that 40 per cent of all internet users have experienced one of six forms of "harassment." In terms of frequency, from highest to lowest, those forms break down like this: offensive name-calling, purposeful embarrassment, physical threats, sustained harassment, stalking, and sexual harassment.
Men were more likely to suffer the more frequent, and less severe, forms of harassment, but stalking and sexual harassment were most often experienced by women.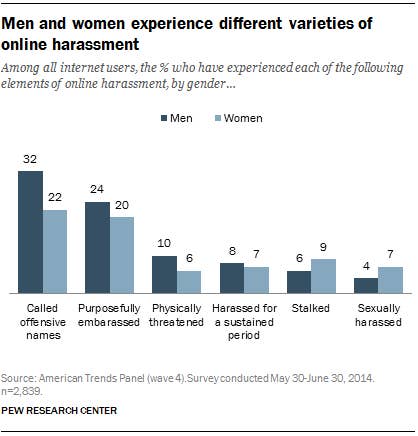 That trend was more noticeable when applied to younger people, a greater proportion of whom have been the target of some form of harassment: 70 per cent of respondents aged between 18 and 24, versus 40 per cent across all age groups.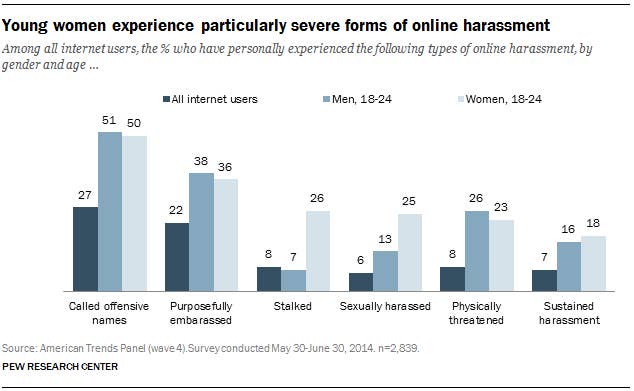 However, online gaming wasn't the most frequent venue of harassment. That dubious honour belonged to social media, which is perhaps unsurprising given how pervasive sites like Twitter and Facebook are relative to the size of gaming communities.
Around 72 per cent of respondents under the age of 50 said that their most recent experience of harassment occurred on social media, and 66 per cent across all age groups. Only 16 per cent named online gaming as the venue, and one comment from a respondent made a telling distinction between the two environments.
"The good thing is, on the computer, you can just leave!"
The data was taken from nearly 2,849 internet users over the course of one month between May 30 and June 30 this year. The full report is available online, and it's well worth your time.