GameStop sales slide 6.8%
Retailer blames late stage of console cycle for shortfall, sees 30% dip in new hardware sales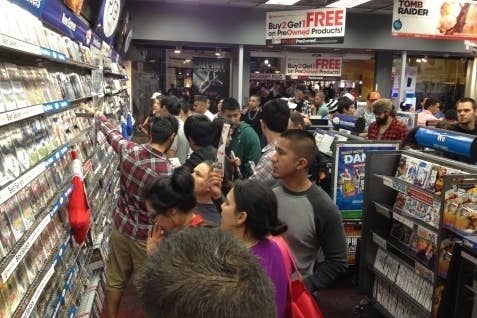 As the packaged retail market goes, so goes GameStop. The specialty gaming retailer today reported results for the quarter ended May 4, and despite solid growth in mobile and digital sales, it was unable to overcome a slumping market for new hardware and software.
GameStop reported total revenues down 6.8 percent year-over-year to $1.87 billion, putting much of the blame on "late stage effects of the current console cycle." New hardware sales were down 30.6 percent year-over-year to $241.8 million, while new software slipped 3.8 percent $703.2 million. However, the company noted that by beating the US industry's software sales decline of 14.2 percent over the time frame, GameStop significantly increased its market share during the quarter. Year-to-date, the company says it accounts for 47.7 percent of new Xbox 360 and PlayStation 3 game sales.
While its traditional businesses all fell for the quarter (used sales were also down 7.5 percent to $572.6 million), GameStop pointed to solid growth in its more recent mobile and digital endeavors. Mobile sales were up 290 percent to $46.8 million, while digital sales saw a 47.3 percent surge.
Like sales, net income was down for GameStop's first quarter. The company reported profits of $54.6 million, down nearly 25 percent from the same period last year.
The company still has at least one more quarter to go before it receives a boost from the launch of the Xbox One and PlayStation 4, and its projections reflect that. For the current quarter, GameStop expects comparable store sales to be down between 16 percent and 12.5 percent. Meanwhile, its earnings per share are expected to come in between $0.01 and $0.07.