Games industry names help YouTuber raise $340,000 for trans charity in Donkey Kong 64 marathon
Grant Kirkhope, Jon Romero and Jim Sterling join the challenge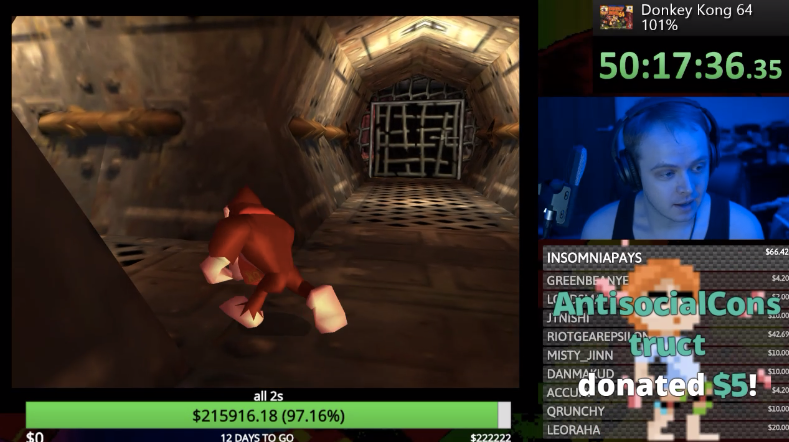 Games industry supporters came out to help one YouTuber complete Donkey Kong 64 and raise over $340,000 for trans charity Mermaids.
Mermaids is a British charity that aims to raise awareness about gender nonconformity in young people, and also provides support groups, helplines, reading materials and a lot more.
The charity has come under attack from TV writer Graham Linehan, who accuses the charity of being an aggressor that seeks to encourage sex-change procedures for children. He even started an email campaign against them to get National Lottery funding removed.
This has prompted YouTuber H.Bomberguy (or Henry Brewis to his friends) to start a live-stream marathon on Twitch to complete Donkey Kong 64, a feat he achieved in almost 60 hours. He was joined on his stream by popular industry faces including Jon Romero (Doom/Quake), Grant Kirkhope (Banjo Kazooie, DK64) and journalist Jim Sterling. He was also joined by US congresswoman Alexandria Ocasio-Cortez and a series of other journalists and streamers.
His initial target was just $500.
Thank you all. So much. I didn't plan for this, and I never could have done. A lot of more specific thanks are in order when I can get to them, but first and foremost for the sake of best keeping track, donate from now directly to @Mermaids_Gender athttps://t.co/HvVtlEd5j4

— Hbomberguy (@Hbomberguy) January 21, 2019
For more information on Mermaids, click here.