Games business worth $200 billion by 2021 - Digi-Capital
Firm says this year will see hardware and software drive $150 billion in revenues, but it's become a "two speed market"
The global games business is booming, but "not everyone's a winner, as games has turned into a two speed market - giant sectors where giants rule, and small high-growth sectors where nimble indies can still make their mark," says Tim Merel of Digi-Capital. The firm's newest report indicates that games software and hardware combined will yield over $150 billion in revenue for the first time ever in 2017. Software is expected to account for about 75% of that total. Furthermore, with a healthy compound annual growth rate (CAGR) of 7.9% for the next 5 years, Digi-Capital estimates that the industry will exceed $200 billion by 2021.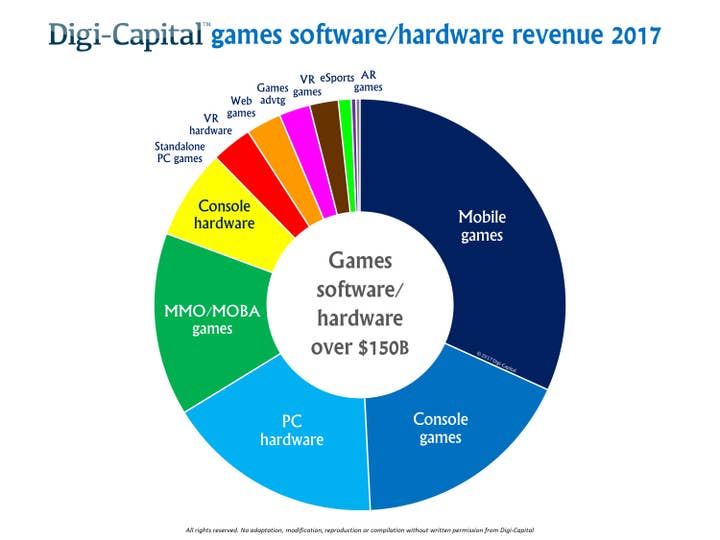 Mobile, of course, has played a huge part in gaming's global growth, and Digi-Capital expects mobile game revenues to top $50 billion in 2017. Merel adds, "Despite this outperformance, mobile games growth could slow to 14.5% CAGR to reach over $80 billion by 2021 (gross apps revenue across iOS, Google Play and all the Chinese app stores). That's more revenue than the entire games software market when we first covered it back in 2010."
And while this generation of consoles is selling well and the Switch is off to a red hot start, Digi-Capital foresees console games and MMO/MOBA games each driving less revenue than mobile this year and slowing down over time. Each could drive about $30 billion revenue in 5 years' time, says Merel, but that would mean mobile games would be bigger than console games and MMO/MOBA games combined by then.
As for the VR/AR craze, Digi-Capital sees VR hardware resulting in over $7 billion in revenue by 2021, with VR games software topping $6 billion. AR games software, mostly pushed by mobile AR, could drive almost $7 billion revenue in 5 years' time as well. Digi-Capital, however, is not very bullish on the other big gaming trend: esports. Merel says, "Esports is the last of the high-growth sectors, but despite serious investment there are still questions over just how big it could become in revenue terms."
Digi-Capital, which tracks global game investments, also pointed out that $2.8 billion invested globally in the last 12 months to Q2 2017 marks a new record, beating the previous $2.4 billion record set for full-year 2014. "With the industry hitting high scores across all the numbers that matter, now's the time to tell your parents that working in games has become the sensible career option," Merel jokes.
You can read more about the Digi-Capital report here.