Games "a bright spot" for retailers on Black Friday
Sterne Agee analyst says PS4 and Xbox One both topped last year's sales, but Microsoft's bundle deal gave it the edge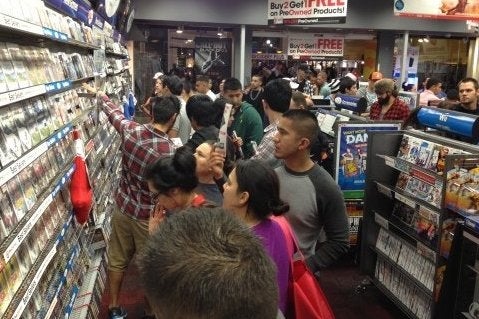 Black Friday sales may have been down this year, but the gaming industry still had plenty to be thankful for this holiday weekend, according to Sterne Agee analyst Arvind Bhatia.
"Notwithstanding several reports indicating overall retail shopper traffic declines over Thanksgiving weekend, we think video games remained a bright spot, based on our checks," Bhatia said in a note regarding specialty retailer GameStop.
Bhatia also said the Xbox One appears to have outsold the PlayStation 4 over the weekend thanks to Microsoft's Assassin's Creed bundle, which offered an $80 discount on the console as well as two games from Ubisoft's historical action series. Sony's Black Friday bundle kept the system's standard $399 price point, but packed in Grand Theft Auto V and The Last of Us: Remastered.
"Checks show both consoles saw unit sales increases year-over-year, which bodes well for the industry as well as for GameStop," Bhatia said. "With respect to software, we think the promotions on various title were very similar to last year; i.e., in general we did not notice unusual discounting on titles."