Game sales tumble 19% in May | US monthly charts
Elden Ring retakes top spot in sales chart as consumer spending hits lowest level since the start of the pandemic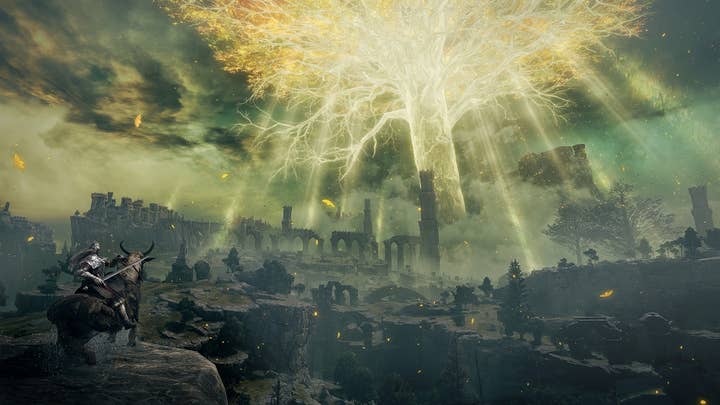 The US games industry last month saw its weakest consumer spending since the beginning of the pandemic, according to the NPD Group.
The industry-tracking firm today released its US sales report for May, showing total gaming revenues down 19% to $3.68 billion.
Content sales (including not just games but microtransactions, subscriptions, and cloud spending) were down 19% for the month to $3.33 billion.
Elden Ring re-took the top spot, nudging last month's best-selling new Lego Star Wars game to second place and solidifying its status as the best-selling game of the year to date.
A light new release schedule placed only one title in the top 20, Saber Interactive's Evil Dead: The Game, which debuted in fourth.
There was little movement in the charts apart from that, with only two games in the top 20 moving more than five spots month-over-month. Those were Pokémon Brilliant Diamond and Shining Pearl on Switch -- up from 45th to 18th -- and The Elder Scrolls 5: Skyrim, which bumped up from 34th to 20th.
Over on mobile, NPD noted that spending on Google Play fell 23% year-over-year, while App Store spending was down just 2.6%.
"While this points to inflation and other macroeconomic factors impacting spend on Google Play, where consumers are typically more cost-conscious, a positive sign for mobile games revenue as a whole came in the form of a small-yet-perceivable year-over-year increase in spending of 1.3% for the top 10 earning games across both stores combined," the NPD Group's mobile tracking partner Sensor Tower said.
Hardware sales were down 11% to $216 million, while accessories were down 7% to $131 million.
The Switch led all platforms in unit sales and total dollars spent on hardware for the month.
Year-to-date, Switch is leading in units sold, but the pricier Xbox Series consoles have seen the greatest overall sales in terms of dollars spent.
Here's the top ten selling games in the US for May 2022, data courtesy of the NPD Group:
| Last Month | This Month | Title |
| --- | --- | --- |
| 2 | 1 | Elden Ring |
| 1 | 2 | Lego Star Wars: The Skywalker Saga |
| 5 | 3 | Nintendo Switch Sports* |
| NEW | 4 | Evil Dead: The Game |
| 3 | 5 | MLB: The Show 22^ |
| 4 | 6 | Kirby and the Forgotten Land* |
| 6 | 7 | Call of Duty: Vanguard |
| 8 | 8 | Mario Kart 8* |
| 9 | 9 | Gran Turismo 7 |
| 10 | 10 | Pokémon Legends: Arceus* |
| 11 | 11 | Minecraft |
| 7 | 12 | Horizon: Forbidden West |
| 16 | 13 | Animal Crossing: New Horizons* |
| 14 | 14 | Super Smash Bros. Ultimate* |
| 13 | 15 | Call of Duty: Black Ops Cold War |
| 12 | 16 | FIFA 22 |
| 18 | 17 | Mario Party Superstars* |
| 45 | 18 | Pokémon Brilliant Diamond/Shining Pearl* |
| 23 | 19 | Call of Duty: Modern Warfare (2019) |
| 34 | 20 | The Elder Scrolls 5: Skyrim |
*Digital sales not included
^ Xbox digital sales not included