Game of War leads TV ad spend surge in 2015
iSpot.tv report shows 47% increase in TV ad spending by game companies with a media value of $630 million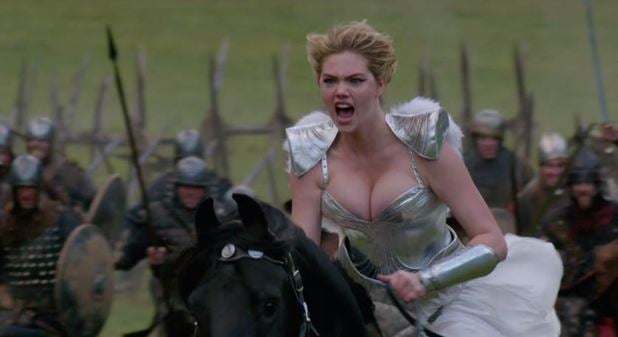 With the rise of social media and viral marketing, some might question the value of big budget TV advertising for video games, but the data shows TV ad spending by major publishers on the rise. A new report from iSpot.tv sent to GamesIndustry.biz reveals that game companies spent 47 percent more on TV ads last year, bringing the total media value to almost $630 million. The report notes that 65 brands placed 406 different spots on U.S. national television just over a quarter million times, which was up from 2014 when 52 brands ran 298 different spots, spending an estimated $427.4 million to air them 154,500 times.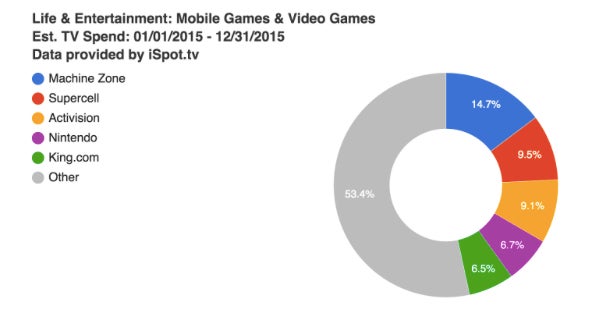 While Nintendo saw the most TV ads with 49, it was Machine Zone that actually spent the most at $92.7 million. Its campaign for Game of War, featuring Kate Upton, accounted for almost 10 percent of the entire industry spend in 2015. Machine Zone produced five different versions of the ad across national televison for a total estimated media value of $61 million.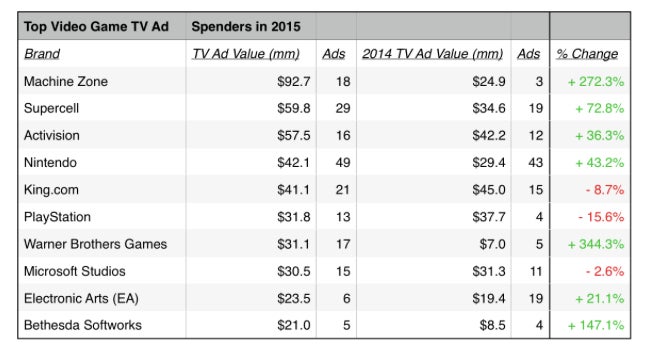 The award for spending the most on an ad in a single day, however, goes to Supercell, which was the only game company to hit the $3 million mark in estimated media value on a single day -- it actually did that for Clash of Clans both during the Super Bowl and the NBA finals. Overall, Supercell ran 29 unique commercials throughout the year with a cumulative estimated media value of $59.8 million.
On the traditional AAA side of the industry, Activision in particular ramped up its ad spending for TV from from $43.2 million in 2014 to $57.5 million last year. The conmpany spent the most, unsurprisingly, on Call of Duty: Black Ops III (estimated media value: $30 million); the publisher also invested heavily in Destiny, said iSpot.tv.
It's also worth noting that the fourth quarter still has a lot of pull in the advertising business. As publishers prepared for the holiday season, they spent more than half ($329 million) of the entire 2015 TV ad budget in the last four months of the year. Additionally, from a demographic standpoint, consumers who are also avid sports fans were the most sought after. Call of Duty: Black Ops III and Fallout 4 in particular saw about three-quarters of their TV ad spend going to sports shows.