Game Maniacs
Taiwanese giant Gamania steps into Europe with a long-term growth plan
Gamania is the biggest online games business you've never heard of. The Taiwanese company was established in 1995, but it hit its stride in 2000 when it expanded into Korea. Over the next 11 years it's growth continued at a rapid pace - to Japan, China and Hong Kong, and now Europe and North America. It floated on the Taiwanese stock exchange, established mobile phone payments for its games, acquired local online game developers, and secured licenses for hit titles like Lineage, Kart Rider and Maple Story.
It also began developing its own titles in-house and moved into media production. It has its own platform, Beanfun, which allows users to socialise, share and buy games - games that are bought using its own payment system, Gash, which is used by 6.5 million people in Asia. It has its own e-sports team, the Gama Bears, runs the Cheer Up Foundation charity, has built its own development team, Red Gate, and two supporting R&D subsidiaries, along with a player feedback and behaviour monitoring centre.
In short, it's a self-contained development and publishing media powerhouse. But outside of Asia Gamania is only really known for the cartoon Hero: 108, a favourite on the Cartoon Network, which spawned an MMO that was quickly shelved.
We look at it as a start-up in each territory even though the company is very big in Asia

William Chen, Gamania
But in In Taipei City where the company has its headquarters, Gamania invited a handful of European reporters - and hundreds of Asian press - to cover a selection of forthcoming games as it looks to start again in the West. The initial batch of games have baffling titles that will mean little to a Western audience - Langrisser Schwarz, Core Blaze, Tiara Concerto, Dream Drops and Warrior of Dragon - but every effort was made to impress, with a lavish press conference complete with fireworks and dancing girls, two days of booth tours, showgirls and nights out with extended hospitality.
It was the type of event Western publishers would have held during the last generation of consoles, throwing money around to make a noise and ensure all eyes were focused on their products - before that was replaced with more focused communication and the tightening of belts. This was an event seemingly unaffected by austerity measures, the whole thing running like clockwork to a micro-managed schedule.
With a strong presence in Asia, Gamania is expanding into Europe and the US, which it sees as a crucial growth area for the business. It's been a year since it dipped a toe into Europe and quietly set up base in the Netherlands, with a team of 13 dedicated staff led by COO William Chen. From there it has spread out across Europe, calculatedly pulling the business together.
"We always look at the long term, we want to build a brand so not just launch one or two products and if that doesn't go well we pull back," admits Chen. "We've been to many different territories and we do the best we can until we really make it a success - look at Hong Kong and Japan as perfect examples. It's a three year plan, it's a five year plan, we have all of that in mind. We change and adapt to local markets step by step."
"We look at it as a start-up in each territory even though the company is very big in Asia," he adds. "We can't go too far and under resource ourselves. With 13 people we can do the basic stuff, and launching a game should be no problem. But to be really excellent at everything then obviously there's a lot of work to be done. "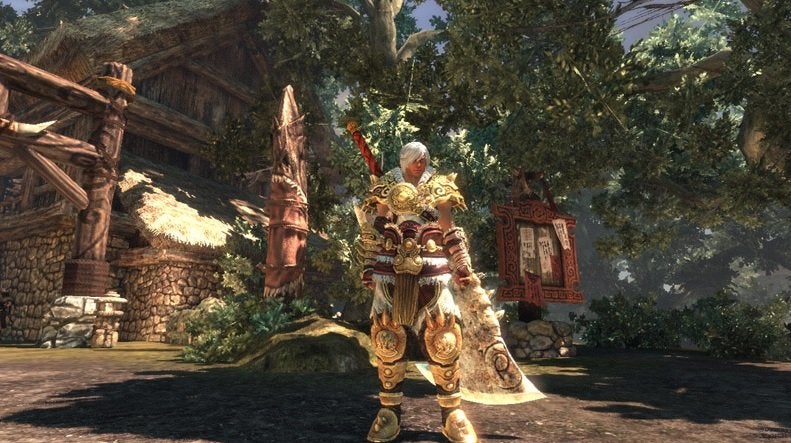 Some games seem destined only for Asia, like the unbearably cute Dream Drops, with its endless grind mechanics and knicker-flashing avatars. Others have a muchbroader appeal, and with the right marketing could draw healthy numbers in Europe. The most compelling is Core Blaze, a four player co-op fighter with a Monster Hunter vibe, a game that benefits as much from the company its played with as any in-game mechanics or gameplay. The fact that it's built with Epic's Unreal Engine could be a selling-point for the game, which is in development at its in-house studio in Taipei.
"Core Blaze will launch in Europe for all different languages," says Chen. "Tiara Concerto or maybe Dream Drops will be very specifically for the French market, Langrisse Schwartz could be another game for the whole European market. Our strategy is to launch in-house titles in Europe but not necessarily in every language, it depends on the genre."