GAME launches Belong - is this the future of video games retail?
New experience stores in Central London and Milton Keynes sees GAME take on cinemas
The troubling sales of this year's big boxed blockbusters have made video games a perilous place to be if your business relies on physical shops.
GAME and GameStop will be feeling the brunt of it, and have been since the heady days of 2008 when 30 games came out a week and the likes of Guitar Hero and Wii were pop culture phenomenons.
Contrary to some reports, these retailers are not oblivious to the changing market conditions that are undermining their core businesses. GameStop and GAME have both identified their two big strengths: their physical locations and large number of reward card holders, and are attempting to build new ventures around that.
GameStop has decided to move into manufacturing and publishing products - it acquired merchandise specialist ThinkGeek in 2015 and has launched its own game publishing division in the form of GameTrust earlier this year.
GAME has a different vision. It plans to use its physical locations and customer base to create experience hubs - places where gamers can play as well as buy. This is not a new strategy and has sat at the heart of what CEO Martyn Gibbs has wanted to do since he took control in 2012. In 2013, the firm hired Dominic Mulroy to help develop GAME's in-store offering. Mulroy had operated Gamerbase, which was a business owned by entertainment retailer HMV and charged gamers to play on their high spec PCs (but was closed down after HMV's own administration woes). Mulroy's appointment ultimately didn't amount to anything, but it has remained something that Gibbs is eager to explore.
Then last year GAME acquired events business Multiplay for £20m, and in June this year it used that company's know-how to develop a gaming 'arena' in its Manchester store. This was an area within GAME that is dedicated to consumers playing together, throwing parties and even trialling new products like VR. It is also a place for grassroots eSports tournaments, which the company is eager to move into in a significant way.
Today, GAME has announced it is opening more arenas under the new heading of 'Belong'... which sounds, frankly, a bit odd.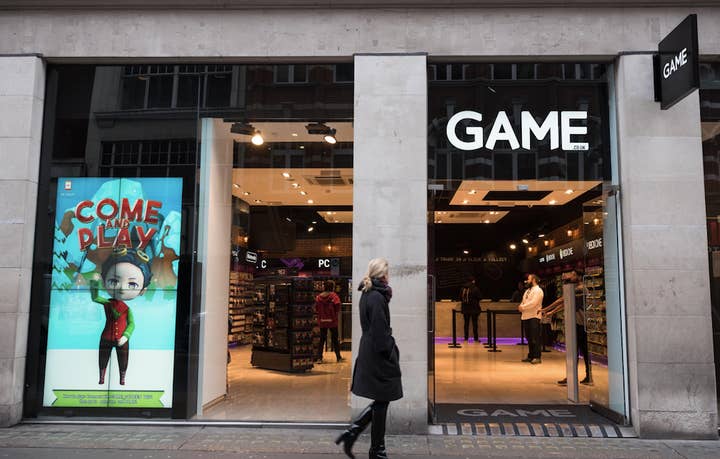 "We spent an immense amount of time, and I am talking months and months and months, researching what the best names would be to put behind what we want to achieve, which is grassroots right through to professional eSports," Gibbs tells GamesIndustry.biz.
"From all the research that we were doing, and after we had launched one or two of our arenas, it was really the element of 'belonging' that those communities were responding to.
"We didn't want to be specific around a GAME title or something that could be that easily associated with it."
I decided to visit GAME's latest 'Belong' outlet in Wardour Street - the firm's first central London location since it was forced to close its Oxford Street store four years ago. The upstairs looks like your typical GAME shop, albeit a little more spacious than we're used to. But the significant change is downstairs in the basement, where you'll find an area for Xbox One consoles, another section for PlayStation 4 gaming, two zones for VR demos (one for HTC Vive, the other for PlayStation VR) and 12 gaming PCs running various titles including Rocket League.
This area will be open until late, with Multiplay's Craig Fletcher (who was tasked with building the store) telling us that, should there be demand for it, it could even run into the early hours of morning. I suggested that a bar might make this even more appealing, and Fletcher wouldn't rule out that possibility either.
"You can choose to go to the cinema, or you could choose to come and play games with your friends in our arena. It is an absolute gaming experience that is replicant of Ten Pin Bowling."

Martyn Gibbs, GAME
It is a sizeable store, and it needs to be. Belong will not work in all of GAME's outlets, so the firm has been moving some locations to accommodate the concept. The other new outlet that opened this week is in Milton Keynes, and GAME closed its store there, moved next door into a unit "three times the size" and then dedicated a third of the space to Belong.
What clearly excites Gibbs is that this concept takes GAME further into the PC space - a lucrative area of gaming that has largely ignored physical retail in recent years due to the popularity of Steam.
"We've been doing League of Legends, Counter-Strike: GO, Hearthstone, Overwatch, tournaments, and more," Gibbs says. "Rocket League has also been a real success for us. This is about building grassroots competition, but also making sure we have the best kit possible for people to play on. The participation that we have seen has been very, vey different. Our average dwell length from people on the machines is over two hours.
"You can choose to go to the cinema, or you could choose to come and play games with your friends in our arena. It is an absolute gaming experience that is replicant of Ten Pin Bowling, it is replicant of a ball park. It is a leisure activity.
"When I went up to Trafford [that initial Manchester store] the week after launch, the Arena was packed, we were full, and I sat and talked to some of the participants that were there and I asked them: "You could be sitting at home, why are you here with us?" And the guy looked at me, smiled and said: "I can't sit next to my mate at home, and I don't have this spec of PC." So it is really building social activity."
Turning its outlets into 'destinations' is not an alien concept, in fact most of retail - from technology shops to bookstores - have been transforming themselves into places that offer far more than just something to buy.
The challenge - as with anything in gaming these days - comes in the form of monetisation. Is it a case of charging consumers to use the machines (akin to the old arcade model), or is it a matter of securing marketing money from publishers and developers that want to see their games showcased?
"The former, actually," Gibbs says. "If you look recently, we have pay-to-experience across Vive and PlayStation VR in most of our stores, and we have various different tournaments, with hour slots, and two-hour slots, or half-day slots, that our gaming communities can pay to participate in.
"There is a slight difference in terms of what we have in Wardour Street. Microsoft and Sony have partnered with us, so those areas won't be pay-to-play, they have actually been funded by Microsoft and Sony for a period of time, and GAME has done the same with the PC area as well."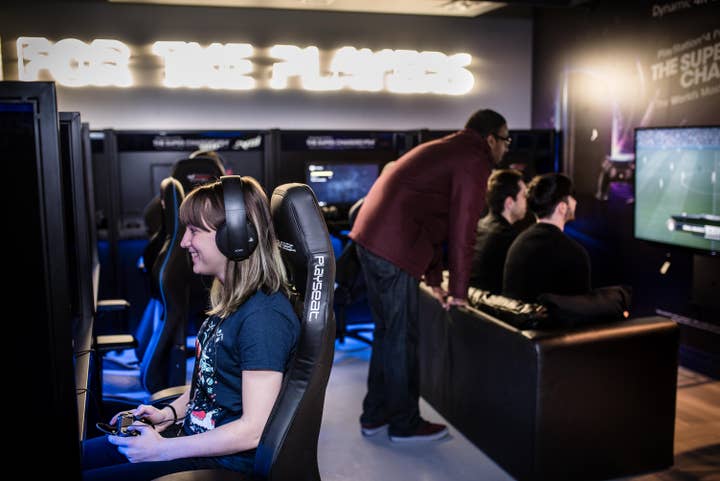 When GAME first announced its plans to charge people to play PlayStation VR in its stores it caused a bit of a media furore, with critics suggesting that GAME should be letting customers try these products for free. Despite the criticism, the firm is sticking with the model, and Gibbs says that consumers are opening their wallets to give it a go.
That is going to be important if this is going to work outside of the big cities. Wardour Street, which is just a stone's throw from GAME's old Oxford Street store, is well positioned to host launch events, midnight openings and other such initiatives. There is even an interactive screen outside - proof, if there was any doubt, of GAME's ambitions to generate more revenue from publishers' trade marketing budgets.
So with physical software sales declining, and an increasing movement towards digital, is 'Belong' the future of GAME?
"For four years we have been operating under the headline of 'building the most valuable community of gamers'," says Gibbs, reciting a oft-spoken phrase from GAME's senior management. "I think every conversation I have had with you has been around making sure that we're going where gamers want us to be, and helping them get the products that they want. What we have created here is a place for gamers to get together and experience all the different games that they love. Whether they want to compete in a Minecraft battle mode, or in League of Legends after hours, we are facilitating all of that. It really is around the development of gaming and what is GAME's involvement in that participation."
So... maybe? For all of GAME's excited talk around Belong (apparently 20 percent of those that have used these arenas so far are entirely new customers to GAME, and PC hardware sales are on the rise), it is still only in seven stores across the UK - rising to ten over the coming months. Gibbs implied strongly that there will be more 'Belong' stores beyond that, but wouldn't be drawn on a number. Regardless, that's hardly a figure that's about to transform the games retail landscape.
It's an interesting, even promising, concept that taps into the zeitgeist around eSports. The store I saw was well presented, which is more than you can say for some of GAME's other outlets, which have become a bit cluttered with merchandise, VR demo zones and sections devoted to traded-in phones and laptops.
However, it's a case of wait-and-see if this latest GAME experiment can become a new business avenue that's capable of off-setting those troubling declines in physical software sales.