Gabe Newell to receive BAFTA Fellowship
"It is an honour for myself and everyone at Valve" says Valve CEO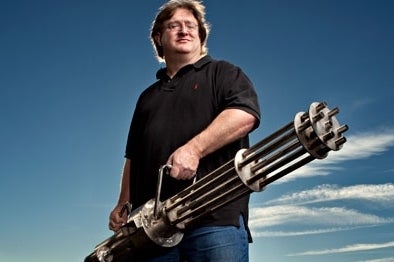 Gabe Newell, CEO of Valve, has said he is honoured to have been chosen for a British Academy of Film and Television Fellowship.
"It is an honour for myself and everyone at Valve to be presented such an award by one of the world's most respected and recognised organisations," he said.
"Valve owes a tremendous thanks to many in the UK - to those who have played our games, to the great support of the UK press, and to UK-based creative contributors such as Garry Newman. I look forward to accepting this prestigious honour on behalf of everyone in our community."
He'll receive the award at the ceremony in London next month, and will join a list of previous winners that include Peter Molyneux, Shigeru Miyamoto and Will Wright.
"Gabe's contribution to the industry is unique"
"Gabe's contribution to the industry is unique, and he is very different to many others that BAFTA could recognise," added the chair of BAFTA's Games Committee Harvey Elliott.
"As well as enjoying great critical and commercial success with phenomenally popular franchises such as Portal and Half-Life, his work in giving back to the games industry through developing and showcasing other games makers has been outstanding. He is an inspirational developer and truly deserving of our Fellow recognition."
Newell is an obvious choice for recognition, he's an outspoken man with big ideas, and Valve is responsible for not only great games, but ideas like Steam and Greenlight that have had a significant impact on the industry. The news will also serve as a welcome distraction from recent lay-offs at the company, which saw familiar faces like Jason Holtman and Jeri Ellsworth depart.