Fortnite dominates both Twitch and YouTube, according to latest figures
Epic Games' battle royale generates $5.3m in first ten days on iOS
Fortnite had the most global uploads related to a video game on YouTube in January 2018, according to data released from the video streaming service; just one of many stats that placees Fortnite among the most dominant cultural forces in gaming.
Epic Games' battle royale offering also holds the number two spot when it comes to watchtime related to a video game, as of February. According to Let's Play Index, however, Fortnite was the most popular game last week with over 91 days worth of content and 287 million views.
Last weekend, over 100 content creators joined a record-breaking battle royale in Fortnite, generating over 42 million live views combined. One creator, ElrubiusOMB, set the record for biggest single gaming stream from a non-esports tournament, reaching more than 1.1 million concurrent viewers.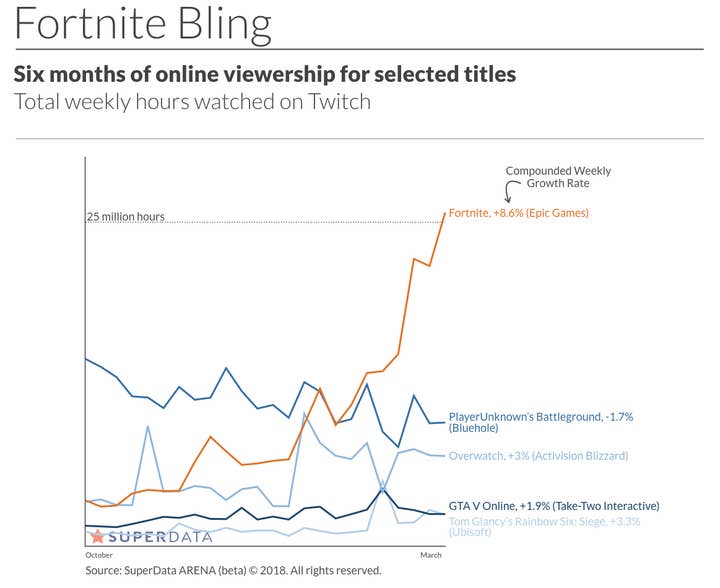 On Twitch also, Fortnite's viewing numbers dwarf the competition. Since October 2017, the number of weekly hours of Fortnite watched on the platform reached 25 million with a compound weekly growth rate of 8.6%, according to SuperData.
Meanwhile, PlayerUnknown's Battlegrounds - which peaked at roughly 12.5 million weekly hours watched in October - has dipped slightly with a compound weekly growth of -1.7%.
Finally, on mobile, Fortnite reportedly generated $5.3 million in its first ten days on iOS according to market intelligence firm Sensor Tower. Compared to the other predominant battle royale offerings on mobile, Fortnite is leagues ahead.
Knives Out made just $355,000 in its first ten days, while Rules of Survival generated $135,000 over the same launch period. However, it should be noted that these figures are for iOS only, and do not include China.
For iPhone revenue generated, Fornite currently ranks second in Switzerland, sixth in Luxembourg, and seventh United States. It is top 100 in another 28 countries, but languishes in 498th position in Japan, where Knives Out recently became the de facto battle royale on mobile.