Find out how overseas app developers can thrive in the Chinese market
Huawei Developer Webinar is set for November 9th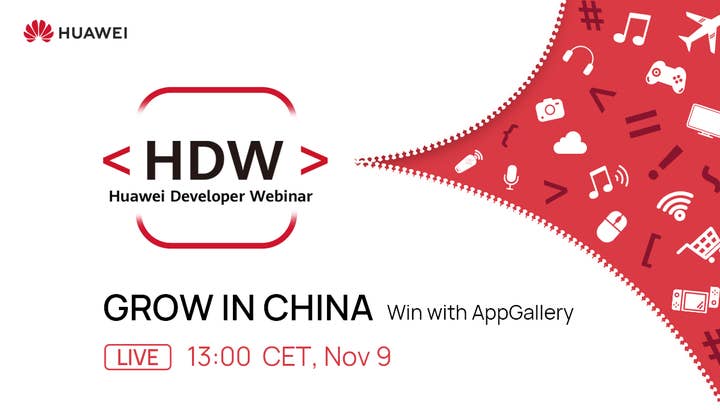 Chinese tech giant Huawei is hosting a webinar designed to help game and app developers get into the lucrative Chinese market.
You can book your spot right here.
Taking place on November 9th, the Huawei Developer Webinar is called 'Grow in China, Win with AppGallery'. The webinar will feature experts from across China, including representatives from Tencent, iDreamSky, Jinke and Feiyu. The group will offer unique insights into overcoming challenges when entering the Chinese market and where the opportunities are.
In addition, the webinar will reveal valuable information on compliance requirements such as market policies, content compliance, consumer protection, data privacy and data storage. Featuring the firm's Legal Affairs Department, developers will find out how to navigate barriers such as copyright certification, business operating licences, publication approvals and more.
The event will also mark the arrival of Huawei's new IT Online Self-service Platform, which will allow studios to find answers about the qualification requirements for apps to enter China. Another new service from Huawei is its HMS Core Localisation Service Solution, which will enable developers to make their app suited to Chinese users.
The app business in China is hugely lucrative, with 1.3 billion mobile internet users and almost 100 billion app downloads in 2019. However, it's a challenging territory to enter, with numerous high-profile apps failing to crack the market. Furthermore, the legal and regulatory requirements are complicated, and can cause a roadblock for developers that can be difficult to overcome.
Getting into China is just one of the hurdles, because then it's about building an app that resonates with the users in that market. The Chinese games audience can prove to be wildly different to those in Europe or the US. Studios need to consider cultural differences, as well as the various, complex localisation needs.
Huawei hopes its webinar can help. The technology firm has a 46% market share of smartphone sales in the country for the second quarter of 2020. Meanwhile, its AppGallery app distribution platform now has 500 million active users, which means it is ideally suited to helping overseas developers succeed in the territory.
Alongside the webinar and support suite, Huawei will also release a white paper that details more about China's app marketplace (see below), including a discussion on the key growth areas and developer pain points, such as user acquisition.
Huawei Developer Webinar - Grow with AppGallery in China starts at (13:00 CET) on Monday 9 November and will be streamed worldwide through here.
Click here to download the whitepaper "White paper for Global App Development in China"