FIFA 22 UK sales were 77% digital | UK Monthly Charts
Big month for PS5 once again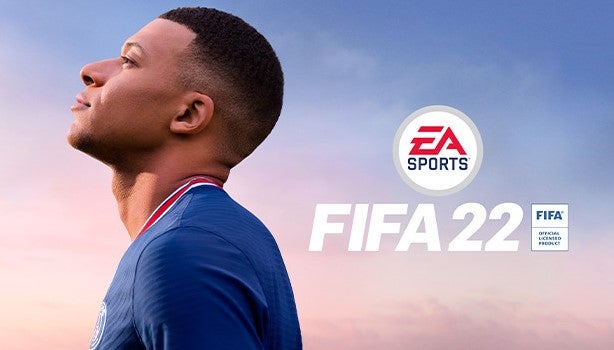 FIFA 22 dominated the UK September charts after one week on shelves, with launch sales up 10% over FIFA 21.
The latest data from GSD reveals that FIFA 22's physical boxed sales dropped 34% compared with last year's game. However, digital downloads grew 37%. Overall, 77% of FIFA 22's opening week sales were via digital stores.
EA has been heavily pushing the download version of the game, with the Ultimate Edition -- which allows players to access the game early -- only available via digital stores.
Last year, 62% of FIFA 21's sales were downloads. FIFA 21 was the first time more copies of a FIFA game was downloaded over being bought in a box (at launch). That number did shrink over time, however. By the end of its first year, FIFA 21's sales were 52% digital.
It's worth highlighting that FIFA 21 launched during a console transition window, which saw PS4 and Xbox One replaced by PS5 and Xbox Series X and S. Therefore its sales performance was a little more staggered than normal last year.
3.36 million games were sold in the UK during September 2021 (2.26 million digital and 1.1 million physical), which is a 25% jump on September 2020. This is due to the fact FIFA launched in September this year, but was an October game in 2020.
Other key new releases in September included NBA 2K22 (sales down 29% over last year's version), Tales of Arise, Diablo II: Resurrected, Insurgency: Sandstorm, Death Stranding: Director's Cut, Deathloop and Life Is Strange: True Colors. Other new games that didn't make the Top 20 include Hot Wheels Unleashed (No.26), Sonic Colors: Ultimate (No.30), and Warioware: Get It Together (No.32).
Deathloop was the big PS5 exclusive of the month at No.16. Bethesda doesn't share digital data with the charts, so the game may well have charted higher. Nintendo also doesn't share digital data, so it's possible Warioware would also have placed further up.
The biggest game launches of September 2020 were Marvel's Avengers, Super Mario 3D All-Stars and Tony Hawks Pro Skater 1 + 2.
GfK HARDWARE AND ACCESSORIES DATA
Almost 220,000 games consoles were sold in the UK for the four weeks ending October 2nd, according to the latest panel data from GfK Entertainment.
All three major platforms were responsible for the growth. PS5 saw a significant increase in stock for the four weeks ending October 7th. It is the console's best sales period since February or March (depending on the four-week period you look at).
The second spot was reclaimed by Xbox Series S and X, which also enjoyed a strong spike in new stock.
Nintendo Switch may have slipped to third, but the console also enjoyed a stronger month following a £20 price drop for the standard Switch model. The console increased in sales for three subsequent weeks even before the Switch OLED was released. Switch OLED will feature in the October data, but we already know that the platform had its 14th best week of all time following the arrival of the new edition last week.
Overall this year, more than 1.6 million games consoles have been sold, which is up 43.2% compared with the first nine months of 2020.
In terms of revenue, almost £600 million has been spent on consoles this year, which is up over 100% over 2020.
In terms of accessories, PlayStation continues to cement its position as the biggest brand for add-on products. The DualSense white controller was No.1 in September, followed closely by the DualSense black. The Pulse 3D Wireless headset for PS4 and PS5 is at No.3, while Xbox's white wireless controller has leaped 16 places to No.4.
After Sony, the second biggest accessories company is Turtle Beach.
The highest charting new accessory is the Xbox Wireless Controller - Aqua Shift, which debuts at No.18.
Like with the software market right now, the accessories space rises and falls with the arrival of new PlayStation 5 and Xbox Series S and X stock. As a result, just shy of 800,000 accessories were sold in the UK during September, a rise of 24.3% compared with August. It was also up 5.7% over September 2020.
GSD September 2021 Top 20 Games (Digital + Physical)
Position
Title
1
FIFA 22 (EA)
2
Grand Theft Auto 5 (Rockstar)
3
NBA 2K22 (2K Games)
4
F1 2021 (EA/Codemasters)
5
Red Dead Redemption 2 (Rockstar)
6
Spider-Man: Miles Morales (Sony)
7
Tales of Arise (Bandai Namco)
8
Ghost of Tsushima: Director's Cut (Sony)
9
Diablo II: Resurrected (Activision Blizzard)
10
Mario Kart 8 Deluxe (Nintendo)*
11
Civilization VI (2K Games)
12
Minecraft: Switch Edition* (Mojang)
13
Tom Clancy's Rainbow Six Siege (Ubisoft)
14
Insurgency: Sandstorm (Focus Entertainment)
15
Death Stranding: Director's Cut (Sony)
16
Deathloop (Bethesda)*
17
Life Is Strange: True Colors (Square Enix)
18
Marvel's Avengers (Square Enix)
19
Animal Crossing: New Horizons (Nintendo)*
20
Assassin's Creed Valhalla (Ubisoft)
* Digital data unavailable
GSD digital data includes games from participating companies sold via Steam, Xbox Live, PlayStation Network, Nintendo Eshop. Participating companies are Activision Blizzard, Bandai Namco, Big Ben Interactive, Capcom, Codemasters, Electronic Arts, Focus Home Interactive, Koch Media, Konami, Microids, Microsoft, Milestone, Paradox Interactive, Quantic Dream, Sega, Sony, Square Enix, Strelka, Take-Two, Ubisoft and Warner Bros. Nintendo and Bethesda are the notable absentees, alongside smaller studios.