FIFA 2020 enjoys sixth consecutive week at No. 1 in EMEAA charts
Both Mario Kart 8 Deluxe and Luigi's Mansion 3 make appearance in top ten despite Nintendo not reporting digital sales figures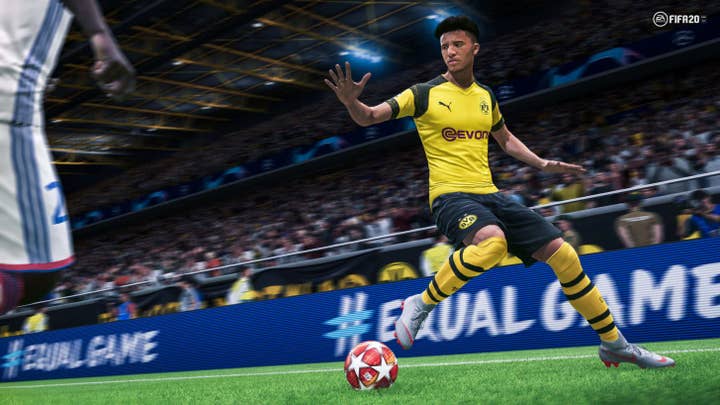 FIFA 20 is enjoying its sixth consecutive week at No. 1 in the EMEAA combined charts, and tenth it's week in the top spot since launching in September 2019.
The ever-present Grand Theft Auto V appears in the latest charts at No. 2, up from No. 13 according to the previous week's charts.
However, a spokesperson from the data tracking firm B2Boost said this rare absence from the top ten resulted from incomplete data, and Rockstar's open world crime-a-thon should have placed at No. 3 for the final week of 2019, meaning it has climbed one spot week-to-week.
This batch of incomplete data has led to a number of inconsistencies with the story GamesIndustry.biz published on January 3, 2020. The below has been reported directly from chart data supplied by B2Boost for the first week of 2020.
Call of Duty: Modern Warfare is down one spot to No. 3, and Star Wars Jedi: Fallen Order holds fast at No. 4.
Chart regular Rainbow Six Siege is in at No. 5, followed by Red Dead Redemption II.
Despite not providing digital sales data, Nintendo has two titles in the top ten, with Mario Kart 8 Deluxe at No. 7, and Luigi's Mansion at No. 9.
Spider-Man and Star Wars Battlefront II round out the charts at No. 8 and No. 10 respectively.
Pokémon Sword has finally gone the way of Pokémon Shield, falling from the top ten entirely this week to No. 12.
Here are the Top 10 best-selling games by units (combined digital and physical) in EMEAA for the week ending January 5, 2020:
| Last Week | This Week | Title |
| --- | --- | --- |
| 1 | 1 | FIFA 20 |
| 3 | 2 | Grand Theft Auto V |
| 2 | 3 | Call of Duty: Modern Warfare |
| 4 | 4 | Star Wars Jedi: Fallen Order |
| 6 | 5 | Rainbow Six Siege |
| 5 | 6 | Red Dead Redemption II |
| 7 | 7 | Mario Kart 8 Deluxe |
| 11 | 8 | Spider-Man |
| 8 | 9 | Luigi's Mansion 3 |
| 15 | 10 | Star Wars Battlefront II |
Participating companies in the GSD charts (run by B2boost on behalf of ISFE) are Activision Blizzard, Bandai Namco, Capcom, Codemasters, EA, Focus Home Interactive, Koch Media, Microsoft, Milestone, Paradox, Sega, Sony, Square Enix, Ubisoft and Warner Bros.
Digital data includes games sold in Australia, Austria, Bahrain, Belgium, Bulgaria, Croatia, Cyprus, Czech Republic, Denmark, Finland, France, Germany, Great Britain, Greece, Hungary, Iceland, India, Ireland, Israel, Italy, Kuwait, Lebanon, Luxembourg, Malta, Netherlands, New Zealand, Norway, Oman, Poland, Portugal, Qatar, Romania, Russia, Saudi Arabia, Slovakia, Slovenia, South Africa, Spain, Sweden, Switzerland, Turkey, Ukraine and UAE.
Physical data includes all games, but only those sold in Belgium, Denmark, Finland, France, Great Britain, Italy, Netherlands, Norway, Poland, Portugal, Spain, Sweden and Switzerland.