FIFA 20 arrives atop EMEAA charts
EA's annual football franchise leads a trio of newcomers to the charts as Code Vein and Dragon Quest XI S also make top 5 debuts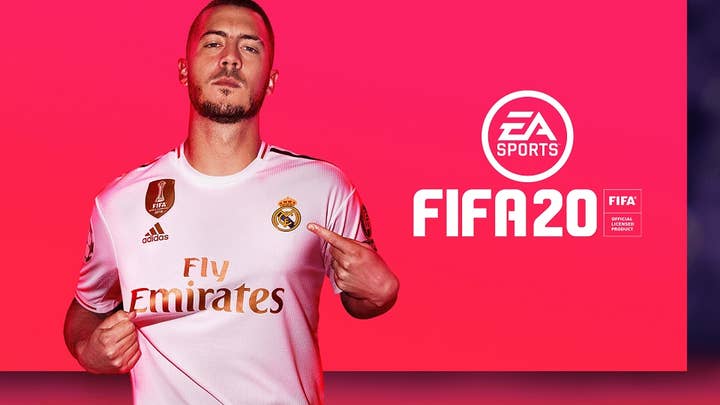 FIFA 20 launched last week, and EA Sports' flagship franchise has (somewhat predictably) topped the EMEAA charts in its debut.
The football simulation pushed the previous week's chart-topper The Legend of Zelda: Link's Awakening down to the second spot, while Borderlands 3 shifts down to a numerically symmetrical third place finish for the week.
The top five is rounded out by two new arrivals, as Bandai Namco's Code Vein finished fourth on the chart, followed by Square Enix's Dragon Quest XI S: Echoes of an Elusive Age. Code Vein was the only original IP to make it into the top 25 this week, unless one counts the Switch edition of Minecraft in 25th place. (The Switch edition of the game launched in 2017, almost six years after the PC version officially left beta.)
Minecraft for PC was also one of the week's big movers, jumping up from 315th place to 30th. However, even that gain was humbled by Gears of War 3, which moved up week-over-week from 1,033th to 14th, and Gears of War 2 going from 1,004th on the charts to 15th. Some notable titles headed in the opposite direction included Efootball Pro Evolution Soccer 2020 (down 11 spots to 16th), Red Dead Redemption 2 (dropping 13 spots to 21st), and NHL 20 (down 22 spots to 31st).
Here are the Top 10 best-selling games by units (combined digital and physical) in EMEAA for the week ending September 29, 2019:
| Last Week | This Week | Title |
| --- | --- | --- |
| New Entry | 1 | FIFA 20 |
| 1 | 2 | The Legend of Zelda: Link's Awakening |
| 2 | 3 | Borderlands 3 |
| New Entry | 4 | Code Vein |
| New Entry | 5 | Dragon Quest XI S: Echoes of an Elusive Age |
| 3 | 6 | Grand Theft Auto V |
| 6 | 7 | Tom Clancy's Rainbow Six Siege |
| 4 | 8 | NBA 2K20 |
| 7 | 9 | Spyro Reignited Trilogy |
| 10 | 10 | Mario Kart 8 Deluxe |
Participating companies in the GSD charts (run by B2boost on behalf of ISFE) are Activision Blizzard, Bandai Namco, Capcom, Codemasters, EA, Focus Home Interactive, Koch Media, Microsoft, Milestone, Paradox, Sega, Sony, Square Enix, Ubisoft and Warner Bros.
Digital data includes games sold in Australia, Austria, Bahrain, Belgium, Bulgaria, Croatia, Cyprus, Czech Republic, Denmark, Finland, France, Germany, Great Britain, Greece, Hungary, Iceland, India, Ireland, Israel, Italy, Kuwait Lebanon, Luxembourg, Malta, Netherlands, New Zealand, Norway, Oman, Poland, Portugal, Qatar, Romania, Russia, Saudi Arabia, Slovakia, Slovenia, South Africa, Spain, Sweden, Switzerland, Turkey, Ukraine and UAE.
Physical data includes all games, but only those sold in Belgium, Denmark, Finland, France, Great Britain, Italy, Netherlands, Norway, Poland, Portugal, Spain, Sweden and Switzerland.