FIFA 14 is UK #1 again
Fable: Anniversary enters at 3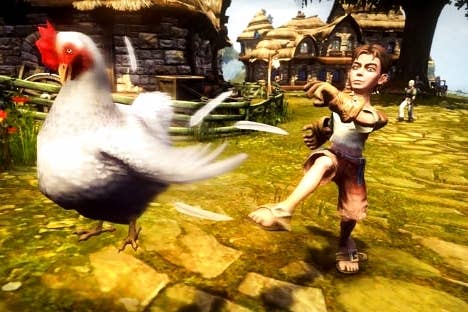 There's no keeping FIFA 14 away from the top spot for long, and it's the UK software number one for the tenth time since it was released last year. It's the third time a FIFA game has done so.
The only top twenty new entry, Fable Anniversary, tried its best but entered at number three, just behind Call Of Duty: Ghosts.
Madden NFL 25 re-entered the top 20 from 27, no doubt helped by UK Superbowl fans.
UKIE Games Charts courtesy of GfK Chart-Track
| Last Week | This Week | Title |
| --- | --- | --- |
| 2 | 1 | FIFA 14 |
| 3 | 2 | Call Of Duty: Ghosts |
| New entry | 3 | Fable: Anniversary |
| 1 | 4 | Tomb Raider: Definitive Edition |
| 5 | 5 | LEGO Marvel Super Heroes |
| 8 | 6 | Grand Theft Auto V |
| 4 | 7 | Battlefield 4 |
| 7 | 8 | Minecraft: Xbox 360 Edition |
| 10 | 9 | Killzone: Shadow Fall |
| 6 | 10 | Assassin's Creed IV: Black Flag |
| 11 | 11 | Gran Turismo 6 |
| 9 | 12 | Need For Speed: Rivals |
| 19 | 13 | Batman: Arkham Origins |
| Re-entry | 14 | Madden NFL 25 |
| 12 | 15 | NBA 2K14 |
| 13 | 16 | WWE 2K14 |
| 16 | 17 | Aliens: Colonial Marines |
| 14 | 18 | Football Manager 2014 |
| 17 | 19 | LEGO Batman 2: DC Super Heroes |
| 15 | 20 | Forza Motorsport 5 |