FIFA 14 is #1, Minecraft PS3 enters at 3
Blocky blockbuster is a hit on the Sony console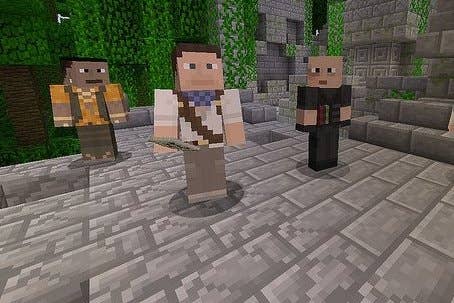 Things were unusually uneventful on the UK software chart this week, with seven non-movers hanging onto their places. Sadly for Titanfall was not one of those, and the UK number one is now FIFA 14.
Minecraft: PlayStation 3 Edition was a new entry at 3, and its a testament to the brand that its closely followed at 4 by Minecraft: Xbox 360 Edition which hasn't fallen outside the top ten this year.
Kirby: Triple Deluxe was another new entry at 16.
UKIE Games Charts courtesy of GfK Chart-Track
| Last Week | This Week | Title |
| --- | --- | --- |
| 2 | 1 | FIFA 14 |
| 1 | 2 | Titanfall |
| New entry | 3 | Minecraft: PlayStation 3 Edition |
| 4 | 4 | Minecraft: Xbox 360 Edition |
| 5 | 5 | 2014 FIFA World Cup Brazil |
| 6 | 6 | Call Of Duty: Ghosts |
| 3 | 7 | The Amazing Spider-Man 2 |
| 7 | 8 | The LEGO Movie Videogame |
| 8 | 9 | Battlefield 4 |
| 13 | 10 | Grand Theft Auto V |
| 11 | 11 | Plants Vs Zombies: Garden Warfare |
| 9 | 12 | LEGO The Hobbit |
| 10 | 13 | LEGO Marvel Super Heroes |
| 14 | 14 | Infamous: Second Son |
| 15 | 15 | Metal Gear Solid V: Ground Zeroes |
| New entry | 16 | Kirby: Triple Deluxe |
| 17 | 17 | Assassin's Creed IV: Black Flag |
| 16 | 18 | Thief |
| 12 | 19 | Bound By Flame |
| 18 | 20 | Batman: Arkham Origins |