FIFA 13 hits top spot with 1m sold
Whiles WoW's pandas debut at number 4 on UK chart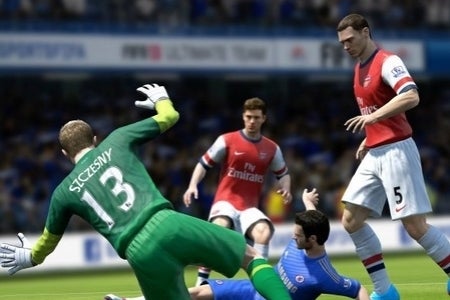 FIFA 13 has made good on its pre-order promise and jumped into the UK software chart at number 1, with over 1 million copies sold. That's an achievement only shared by Call of Duty Black Ops and Modern Warfare 2 and 3.
The sales made the EA sports title responsible for 71 per cent of all units and 80 per cent of all entertainment software revenue this week.
Other new entries this week included World Of Warcraft expansion pack Mists Of Pandaria at 4, Rocksmith at 7 and Dead Or Alive 5 at 11. Compilation Angry Birds Trilogy entered at 16, closely followed by Gran Turismo 5 Academy Edition at 17.
All chart data is courtesy of Gfk Chart-Track.
| Last Week | This Week | Title |
| --- | --- | --- |
| New Entry | 1 | FIFA 13 |
| 1 | 2 | Borderlands 2 |
| 2 | 3 | F1 2012 |
| New entry | 4 | World Of Warcraft: Mists Of Pandaria |
| 3 | 5 | Pro Evolution Soccer 2013 |
| 4 | 6 | Sleeping Dogs |
| New entry | 7 | Rocksmith |
| 13 | 8 | The Elder Scrolls V: Skyrim |
| 5 | 9 | Lego Batman 2: DC Superheroes |
| 7 | 10 | New Super Mario Bros. 2 |
| New entry | 11 | Dead Or Alive 5 |
| Re-entry | 12 | Forza Motorsport 4 |
| 6 | 13 | LittleBigPlanet PS Vita |
| 12 | 14 | Dead Island GOTY Edition |
| 10 | 15 | Max Payne 3 |
| New entry | 16 | Angry Birds Trilogy |
| New entry | 17 | Gran Turismo 5 Academy Edition |
| 11 | 18 | London 2012: The Official Video Game |
| 9 | 19 | Guild Wars 2 |
| 8 | 20 | Tekken Tag Tournament 2 |