Female viewership of esports increasing
Interpret finds girls and women account for 30% of esports watchers, up more than 6% in just two years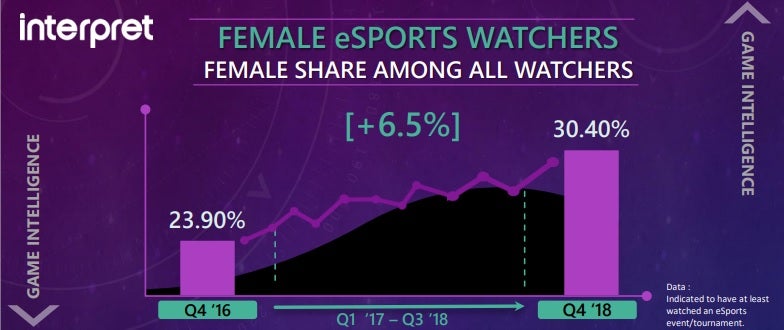 It's no secret the esports scene has had issues appealing to women, but there are some indications the situation is at least improving. A brief released today by market research firm Interpret indicates that women and girls are making up a significantly larger share of the esports audience than they were just two years ago.
According to Interpret's latest quarterly online survey of around 9,000 US residents, 30.4% of people who watch esports on console or PC are female. That's up from 23.9% for the fourth quarter survey of 2016. Overall, girls and women account for 35% of people who play esports games on console or PC, and 20.3% of those who watch a specific esports league on those platforms.
"Changing behaviors among a large segment of people is difficult," said Interpret VP of research for the EMEA Tia Christianson. "Progress of this size always takes time; however, a 6% gain in gender share over a two year period is a trend in the right direction. If two years from now, the female audience grabs an additional 6% in share, eSports viewership will be in gender parity with what we consider standard among traditional console and PC games."
The firm noted that many major esports titles tend to show "extremely low female involvement" with Blizzard's Hearthstone and Overwatch at 26% female, trailed by Counter-Strike: Global Offensive (24%), Rainbow Six: Siege (23%), and DOTA 2 (20%).
"As an industry, more progress will be made as females' role in traditional eSports titles continue to grow, given the efforts from some of the industry leaders," Christianson said. "More likely than not, a lot of that growth may come in non-traditional eSport genres, and especially games tailored to mobile and tablet devices."