Farming Simulator League: Bringing agriculture and gaming together
GIANTS Software discusses its esports mode about wheat harvesting and bale stacking, and how it's inspired agricultural manufacturers to compete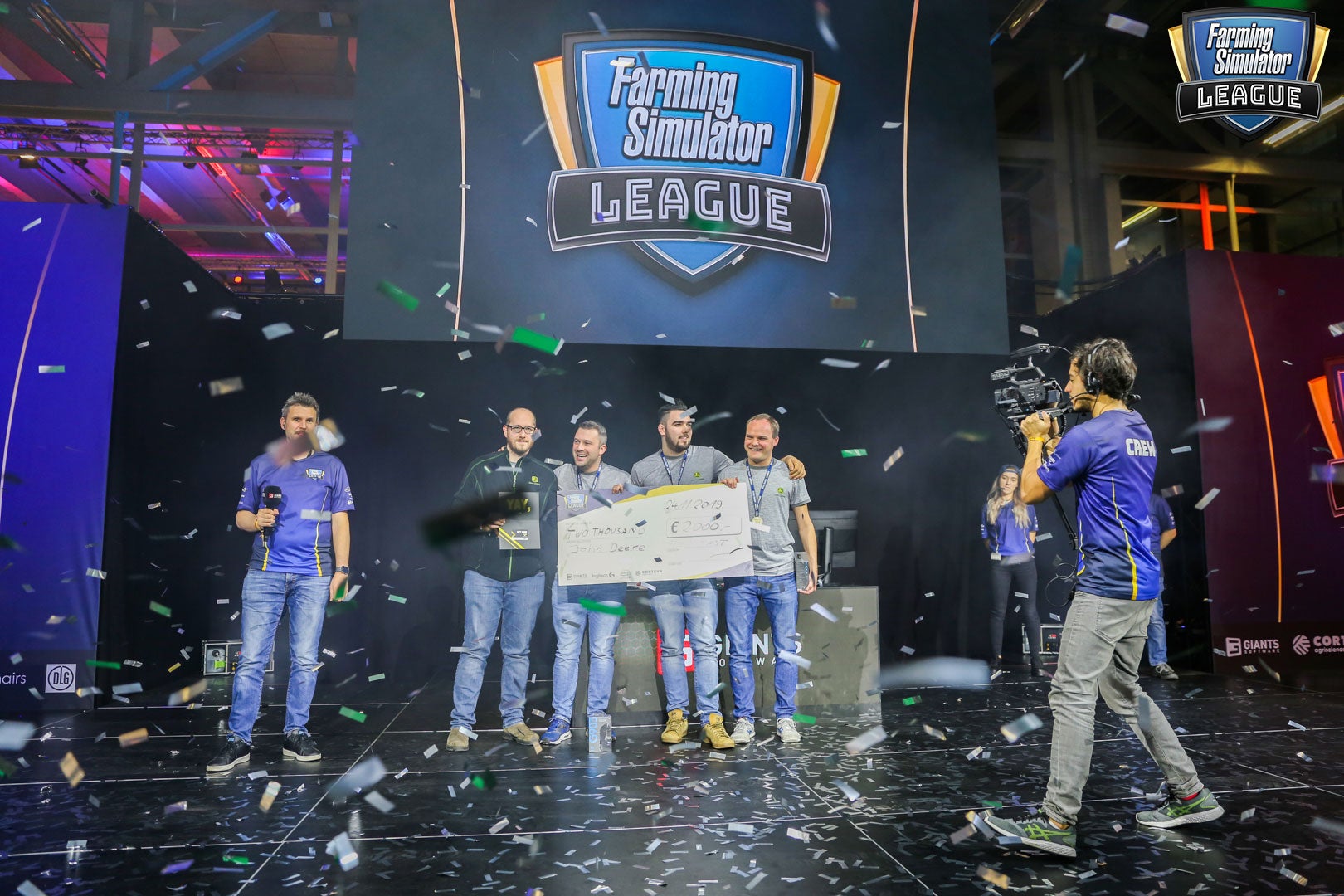 One year ago, the Farming Simulator League was initiated by GIANTS Software at FarmCon 19 -- our very own convention for fans and modders.
The response after the first 12 months has been quite pleasing. Although the COVID-19 pandemic has seen FarmCon move to a digital format this year (and with numerous other events cancelled) the introduction of FSL has been a success. The league is expanding and rising in popularity quickly, and it's not just popular with gamers, either.
When agriculture gets virtually competitive
The FSL is gaining traction with fans and esports players looking for a new challenge. But it's also attracting agricultural manufacturers and their brands from around the globe, who are actively competing in tournaments. So not only are their brands represented in the game -- some of them have been in the Farming Simulator games for years -- they now have their own teams ready to compete.
"The Farming Simulator League is attracting agricultural manufacturers and their brands from around the globe, who are actively competing in tournaments"
The seasonal prize pool consisting of 250,000 Euros is a nice incentive to join, but for agricultural big players like John Deere, Trelleborg, CLAAS and many more, it's way more interesting to see their brand coming out top in direct competition. Especially when thousands of fans are watching the live-streams. The tournaments themselves are exciting to watch, with the teams going all out for victory, racing around the field, hunting power-ups and outplaying each other in harvesting wheat, pressing bales and delivering them to the barn.
All of this was created by a comparatively small games company from Europe, which had just 35 staff when we started this (we're at 80 now). Here's how and why we did it.
Creating an esports league from zero
In mid 2017, the development team of GIANTS Software created what was basically a competitive mini-game in Farming Simulator 17 for Agritechnica, the world's biggest agricultural trade fair. Fans and visitors enjoyed it, and we repeated it at HeroFest, Switzerland's convention for games, eSports and cosplay. After more and more fans asked about it, we released a public version within Farming Simulator 19. That led us to hold a meeting to decide to go big on this new mode, and that was the foundation of the Farming Simulator League.
Because managing an esports league is not an easy task while developing a game series, a specialized FSL team was formed, and we hired a number of people. In the end, the team consisted of event managers, community managers, video editors, IT professionals and a lot more. Everyone had to work together, including the marketing team and, of course, the developers, who had to refine the esports element to optimize the tactical gameplay.
Because of the teams proactive 'let's do it ourselves' attitude, the dedicated FSL team doesn't simply organize live streams: With two Krone semi-trailers, they're equipped with the means to travel to events around the world. No third-party service provider is used for transport or stage building. Catering and food may be another story, however.
Competitive farming around the globe
So, the GIANTS team is determined to go where fans and potential fans are gathering. Of course, Farming Simulator and the Farming Simulator League are especially popular in Europe -- that's no surprise looking at the history of the series that has sold more than 25 million copies over the years. We've already established FSL in Germany, Switzerland, and Austria, but also in France, Czech Republic and other countries. More and more requests are rolling in from other continents and the FSL is also rising in popularity in many English-speaking countries.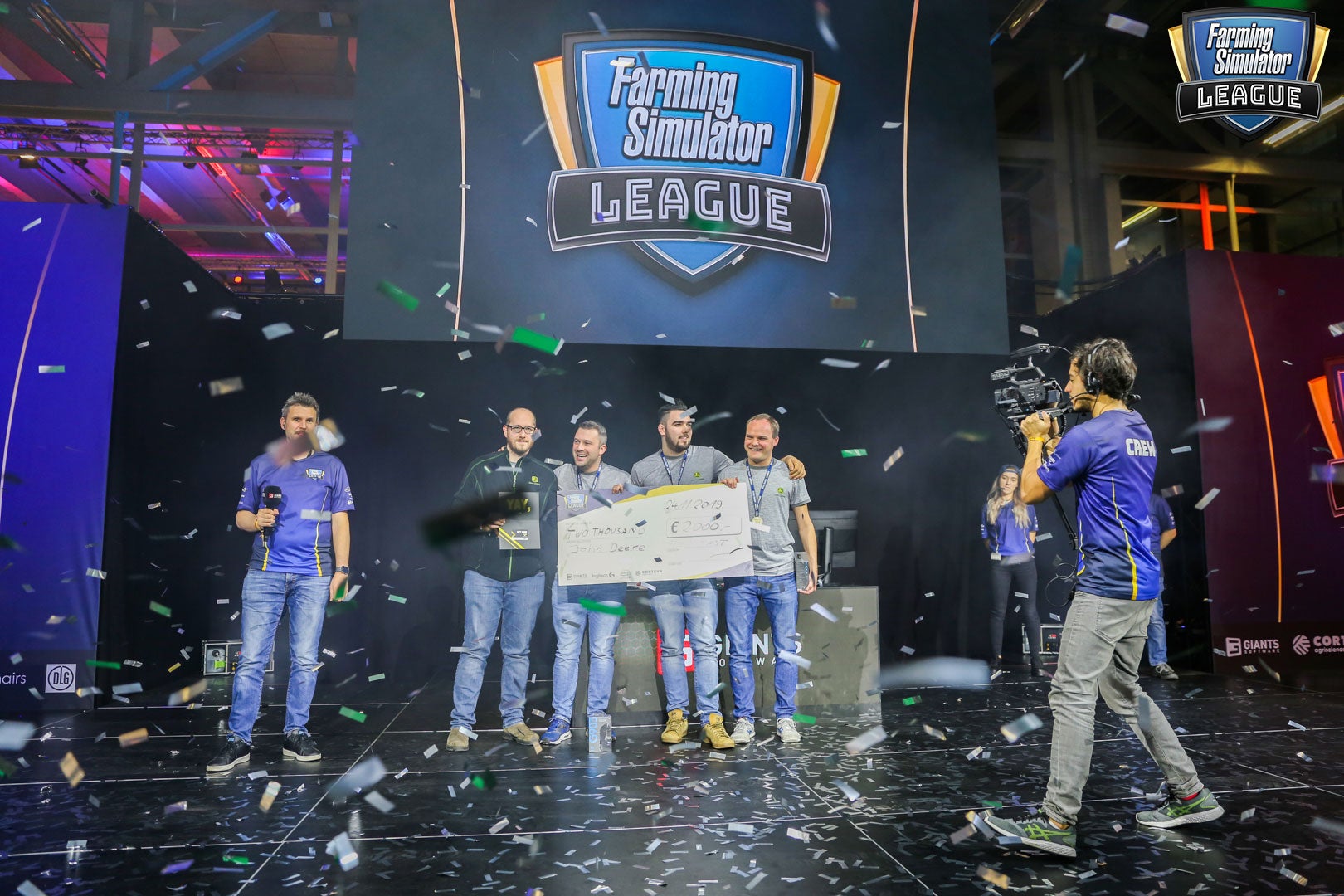 That includes the United Kingdom and the United States. In the US, a new GIANTS Software office in Chicago is set to deepen the relationship with North American fans. Most recently, Australian gamers are joining in through the Young Farmers XP Esports Cup 2020 by XP Esports Australia, which is in partnership with one of the world's biggest agricultural exhibitions: Ekka. In total, 90 teams have competed in the FSL tournaments so far, and thousands more are registered.
Big names coming together at big events
The Farming Simulator League is attending more and more events in the gaming and esports industry: Gamescom, Paris Games Week, Dreamhack Leipzig and, most importantly, the Intel Extreme Masters in Poland, the world's biggest esports event. On top of that, the FSL was present, for real this time, at 2019's Agritechnica.
This also shows how close gaming and agriculture have become thanks to Farming Simulator and the FSL. Not only because of big events, but also many acclaimed companies from the games industry like Logitech G, Intel, Nitrado, Noblechairs and Corteva are eager to participate in the Farming Simulator League by sponsoring teams.
Investing in production value
The latest step forward is in how the league looks. At the beginning of the year, our German office in the Franconian City of Erlangen built a brand-new studio from scratch to guarantee professional production values for all upcoming video productions. That includes, of course, the FSL live-streams, where moderators, casters and participants have enough room to compete in a professional esports environment. There is more than 160 square meters of with multiple sets and rooms for commentary, interviews and all forms of video production. We also have high end equipment to ensure an audio-visual presentation of the highest standards.
Next up: Season 2 finals
Currently, the 16 best teams in the league are battling for eight places in the knockout rounds. This season's most consistent team, Trelleborg, is the top candidate to become the world champion of the Farming Simulator League this season. The suspense continues with John Deere being close in the tractor's rear view mirror.
If you want to get a taste of virtual competitive farming, just tune in at twitch.tv/GiantsSoftware or visit fsl.giants-software.com.
The group stage is broadcasted live every Sunday with the finals finishing on September 19th and 20th. Beyond that, Season 3 of the FSL will start with even more improvements, making the league even more exciting and attractive for new fans, participants and sponsors.