Facebook: Why genre matters in mobile gaming
Facebook IQ's Kyle Ranally looks at the data to analyse the role genre plays in the success of mobile games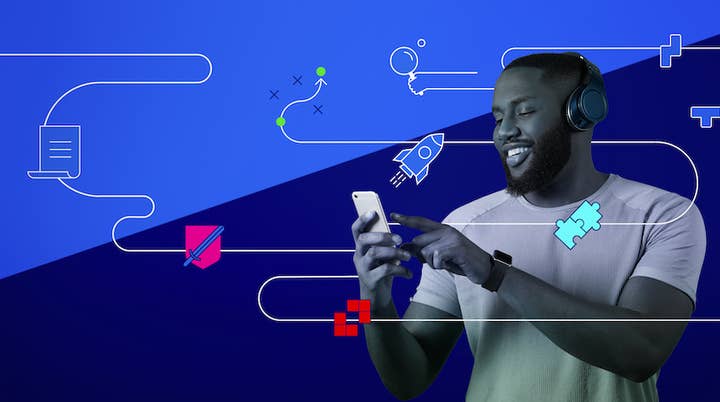 As mobile gaming has surged in popularity, it has attracted a wide pool of players with varying interests and motivations. Similar to other entertainment industries like music and film, this increased diversity has led to the development of new genres spanning from immersive, hardcore titles to relaxed, hypercasual games.
To explore the power of genre in mobile gaming, Facebook IQ commissioned Interpret to conduct a global study of 13,412 mobile gamers across 11 countries (Australia, Brazil, Canada, France, Germany, India, Indonesia, Japan, South Korea, UK, US). Players were segmented across 27 different mobile gaming genres and subgenres to explore their gaming behaviors. In addition to this study, we analyzed our internal app events data to uncover behavioral insights across mobile gaming genres.
But what are insights without actions? How can game developers take our research and build better games? We partnered with GameRefinery to pair our learnings on player motivations and behaviors with their in-depth game feature analysis. This partnership led to the creation of a comprehensive report to help gaming developers create and market great new mobile games across genres.
For more information, check out the full "Genre and Great Games" report from Facebook IQ, Facebook Gaming and GameRefinery.
Game genre helps drive new downloads
Some may ask: 'why is genre important to focus on?' When looking for new game ideas on social media or searching through app stores, genre is consistently the top factor that influences mobile gamers to try a new title. Across nine surveyed markets, nearly half (49%) of players surveyed say genre is important in their decision, greatly exceeding other considerations like peer recommendations, app store reviews and even data requirements.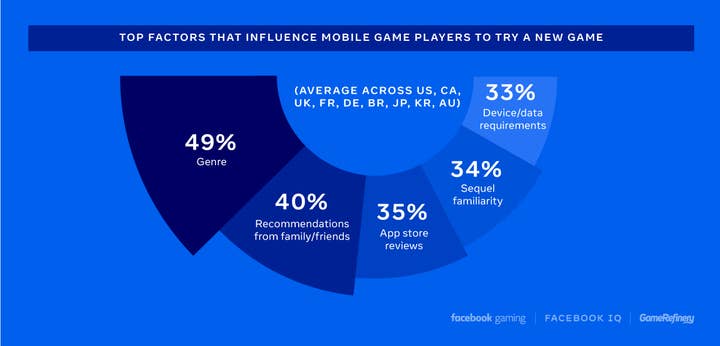 Genre preferences vary by country
It's important to note that specific genre preferences vary significantly among countries. For example, while matching puzzle and racing games are consistently popular across markets, gamers surveyed in North American and European countries favor card, casino, and hypercasual games more than gamers in other regions.
The ability to immerse themselves into another character or world is very appealing to Japanese players that were surveyed. Additionally, they are more likely to appreciate game aesthetics, with 52% saying they prefer games with stylized artwork compared with 38% of US mobile gamers. This leads Japanese players to be more likely to play various types of role-playing games (RPGs) such as puzzle RPGs and action/massively multiplayer online (MMO) RPGs. In fact, 43% of Japanese mobile gamers surveyed, report playing RPGs, which is significantly higher than any other market in our research.
In South Korea, mobile gamers also gravitate toward RPGs, particularly action/MMO games. Idler mobile games are also popular in this market, with over a quarter of players surveyed saying they enjoy this genre.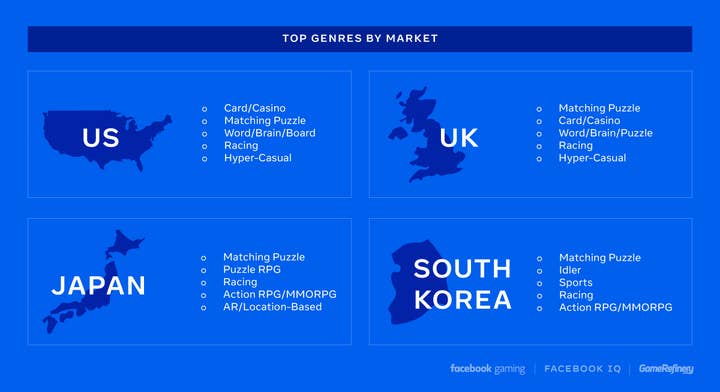 In emerging markets like Brazil, India and Indonesia, community plays an important role in mobile gaming. Nearly two-thirds (65%) of mobile gamers surveyed in Indonesia say they enjoy playing online multiplayer modes, and in Brazil 44% say mobile gaming is more valuable as a way to connect with others (compared with 22% in Japan). Genres that enable social interaction during gameplay, such as shooter, strategy, sports and multiplayer online battle arena (MOBA) games, tend to resonate well in these markets.
Mobile gamers play games in more than one genre
Across countries, very few mobile gamers report playing only one genre. To fulfill different gaming needs, people are increasingly playing different genres. Based on Facebook internal data from Q1 2020, players in the US, the UK and South Korea play an average of two distinct genres in a given month, while Japanese gamers play three. Diversification is likely to increase as 76% of US mobile gamers and more than nine in ten mobile gamers in Japan, South Korea, Brazil and Indonesia say they are open to playing genres they aren't currently playing.
Key Takeaways:
1. Harness the power of game genre: given the influence genre has on consumers' decision to try new games, it is crucial for marketers and developers to highlight the unique benefits and features of their game's specific genre in order to help attract new players.
2. Consider market nuances: when looking to launch a new game internationally, it's important to consider which markets have existing preferences for your genre in order to understand how your title fits in the competitive landscape.
3. Play to diversification: as people increasingly experiment with new genres, consider expanding your target audience to consumers who play other types of games beyond your title's genre.
For more information, check out the full "Genre and Great Games" report from Facebook IQ, Facebook Gaming and GameRefinery.
Byline: Kyle Ranally, Global Vertical Insights Marketing Strategist, Facebook IQ