Facebook App Center goes mobile
Social network looks to offer even more ways to push out social apps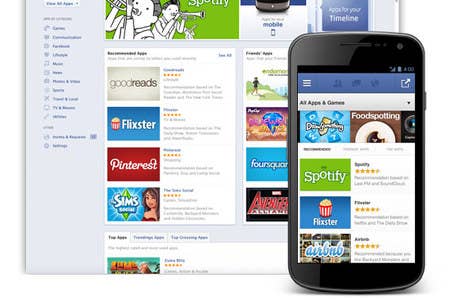 Facebook has launched its mobile App Center. The App Center launched after the company's IPO, featuring products like including Nike+ GPS, Ubisoft Ghost Recon Commander, Stitcher Radio, Draw Something, and Pinterest.
According to Facebook, the company was responsible for 83 million visits to the Apple App Store in May. "The app center represents a new way for users to discover social applications," said Douglas Purdy, Facebook's director of developer products to Cnet.
Right now, the mobile App Center will only go live for between 6 and 8 percent of Facebook's US userbase. The company said it will roll out to all US users in the coming weeks, and eventually there will be different App Centers customized for different parts of the word.
Facebook currently relies on algorithms and humans to decide what apps it features. Eventually, the team wants the algorithms to do most of the work in figuring out apps to feature, and they hope that a prominent slot will eventually be as coveted on Facebook as it is on the App Store.
Matt Wyndowe, the company's product manager for games and apps, indicated that the company is not looking to sell digital goods and apps directly to consumers. Right now, the App Center pushes out apps for iOS and Android via Facebook on mobile, where Facebook receives a huge amount of traffic.