Ex-Valve devs launch castAR Kickstarter
Jeri Ellsworth and Rick Johnson seeking $400,000 to build virtual reality/augmented reality glasses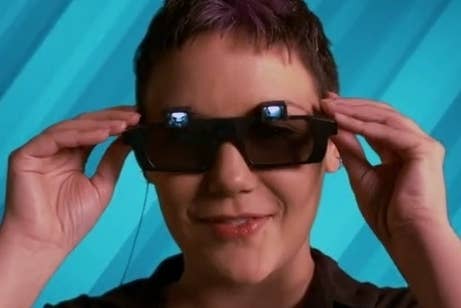 An abandoned piece of Valve hardware may yet find its way to market. Technical Illusions today launched a Kickstarter campaign for the castAR glasses, a virtual reality and augmented reality system that co-founders Jeri Ellsworth and Rick Johnson had been working toward during their previous jobs at Valve.
The castAR system is driven by a pair of glasses with two micro-projectors, one above each eye. The system also relies on a highly reflective surface that bounces the light from the projectors back at the viewer, and an active shutter system on the glasses to make sure each eye is only seeing the image from the corresponding projector. The glasses also have a camera scanning for infrared markers on the surface, which adds head tracking capabilities to the system. Optional add-ons include virtual reality clip-on lenses and a wand that serves as an input device for users to interact with their virtual worlds.
Ellsworth and Johnson are looking to raise $400,000 to bring castAR to market. They already have functional prototypes of the castAR technology which won Editor's Choice and Educator's Choice awards at both the New York and Bay Area Maker Faires earlier this year. The goal now is to improve size, power consumption, software support, and ergonomics for the final product.
Backers who pledge $189 will receive a starter kit containing the glasses and reflective surface with an estimated delivery date of September 2014. A bundle with the controller and VR clip-on as well will run backers $285. Technical Illusions has also created a "Pledge Calculator" that lets backers specify how many of each component they want, and then tells them how much they need to contribute to receive them.