Ex-Human Head devs sued by Rune II publisher
Ragnarok Game accuses defunct studio and its co-founders of fraud, holding game assets hostage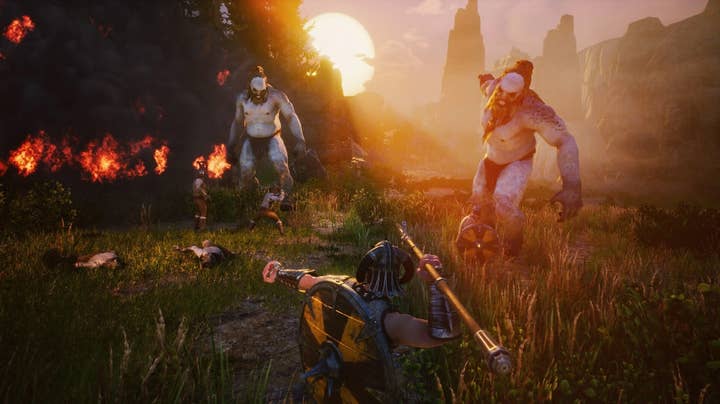 The publisher of Rune II has filed suit against the game's developer Human Head and three of its co-founders, accusing them of fraud and breach of contract.
Ragnarok Game yesterday filed its complaint in California's Superior Court for Los Angeles County with a number of allegations centered around Human Head's behavior in the lead-up to -- and aftermath of -- the release of Rune II. It names Human Head -- which shut down a day after Rune II's launch and instantly re-formed with the same development team as new Bethesda-owned studio Roundhouse Games -- and Human Head co-founders Christopher J. Rhinehart, Ben Gokey, and Paul MacArthur.
Ragnarok said while it paid Human Head roughly $3.5 million for milestone payments, the studio failed to deliver the "bug-free, cooperative multiplayer, fully localized and tested game" their agreement required. Additionally, Ragnarok said it had to take back duties that Human Head had originally agreed to handle, including live operations, marketing, and community management. On top of that, Human Head allegedly backed out of commitments to attend PR and marketing events, and key employees went on vacation or became uncommunicative in the week before launch.
"It was as if Human Head was taunting Ragnarok to terminate the Rune II Agreements," the publisher said, after pointing out that the deal gave Ragnarok exclusive rights to the Rune IP for at least five years after launch, rights which could be disputed if Ragnarok had decided to terminate the deal.
Post-launch support was a particular focus of the suit, as Human Head continued to have regular calls and meetings with Ragnarok to plan ongoing Rune II support until just before launch, when Human Head informed the publisher it would be shutting its doors just five days before the game's planned debut on the Epic Games Store. Ragnarok also said it received no warning of the Roundhouse/Bethesda plans, which it believes had to have been in the works for months. Had it known Human Head would not be available to work on the game post-launch, Ragnarok said it would have lined up another developer to handle the process and figured out how to communicate the transition to the community.
Ragnarok said after the news broke of Bethesda's involvement with the former Human Head staff, it asked Human Head and the co-founders to turn over all Rune II assets in its possession. The publisher said they have thus far refused to do so, with Gokey allegedly telling the publisher that it would need to make additional milestone payments before the developers handed them over. Further, in the week after Human Head became Roundhouse, Ragnarok claims the studio tried to upload an altered version of the game to the Epic Games Store. (The suit does not say what was changed about the game, but concluded it "could only have been driven by malice and a desire to undermine Ragnarok, the success of Rune II, and the Rune II community.")
Ragnarok is seeking compensatory damages of at least $100 million, restitution of all money it paid to the studio and co-founders, the return of Rune II assets, and punitive damages.
An inquiry to the defendants made through Bethesda was not immediately returned.