European video game sales in June jump 20% thanks to Diablo 4 | European Monthly Charts
PS5 continues to dominate across the continent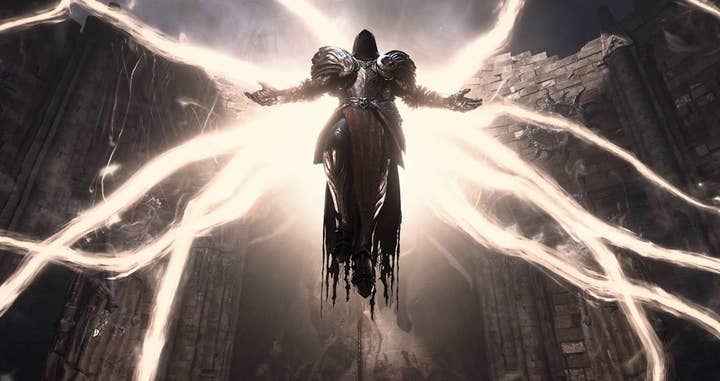 15.5 million games were sold across Europe last month, according to the latest GSD data.
This data covers digital games from most major AAA games publishers, and physical retail games from the big European countries. Full list below.
Five million games were sold via physical retail, with the remaining 10.5 million via digital download stores.
It's a 20% sales improvement over June last year, driven by a number of major new releases.
Diablo 4 was comfortably the best-selling game of the month and it's the second fastest-selling game of the year behind Hogwarts Legacy. Zelda is the third fastest-selling game, but that game is missing its digital download data (Nintendo doesn't share this information), so it's possible Diablo 4 is really No.3 in terms of the list of fastest selling games of the year.
Diablo 4 is the biggest video game launch in June since the GSD charts began in 2017.
Over 66% of Diablo 4 sales were on PC, with over 21% on PS5 and just under 9% on Xbox Series S and X. The remaining 4% was on PS4.
In second place is Square Enix's Final Fantasy 16. The game's launch is 24% down compared with the last major Final Fantasy game: 2020's Final Fantasy 7: Remake. Final Fantasy 16 is a slightly different take on the series, and the 2020 game was released near the start of the COVID-19 lockdowns (and when the console install base was higher), which may explain the drop.
The next biggest new release is F1 23 from EA. It's a disappointing launch for the official racing game, with sales down almost 47% compared with what F1 22 managed over the same period.
Just under 65% of F1 23's sales were on PS5, with just over 22.5% on Xbox Series S and X and 12.5% on PS5. PC accounted for just 0.3% of sales.
The next notable new game in the June charts is Street Fighter 6 at No.9. Over 51% of sales for Capcom's fighting game was on PS5, with 28% on PC, 12% on Xbox Series S and X and almost 9% on PS4.
Looking purely at those four new releases, 80% of sales came from digital download stores. Obviously, that does fluctuate quite a bit depending on the game, with Diablo 4 at one end of the spectrum and Final Fantasy 16 at the other. In fact, across Europe, Final Fantasy was bought primarily via physical retail stores.
In terms of purely physical retail sales, The Legend of Zelda: Tears of the Kingdom just about held Diablo 4 off from the No.1 position.
Over in hardware, just 500,700 games consoles were sold across tracked European markets last month, which is up 33% over last June.
This is due to a spike in sales of PlayStation 5 (up 116%), while Switch sales are down slightly (-2.3%) and Xbox Series S and X sales are basically flat (sales down 0.8%).
PS5 reclaims its spot as Europe's No.1 console, having had to settle for second place last month due to the success of Nintendo Switch and The Legend of Zelda: Tears of the Kingdom.
Over in accessories, Sony's DualSense controller is No.1, with sales up 6.6% over last year. Then it's the Xbox Wireless controller, which saw a huge jump in sales thanks to the launch of a special edition Starfield version.
Overall, 1.46 million accessories and toys-to-life products were sold, a rise of 5.4% over June 2022.
In terms of points cards, 1.3 million of these were sold last month (up 3.4% year-on-year), and it's still the PlayStation Store Top-Up cards at No.1.
European GSD June 2023 Top 10 (Digital + Physical)
| Position | Title |
| --- | --- |
| 1 | Diablo 4 (Activision Blizzard) |
| 2 | Final Fantasy 16 (Square Enix) |
| 3 | FIFA 23 (EA) |
| 4 | The Legend of Zelda: Tears of the Kingdom (Nintendo)* |
| 5 | Grand Theft Auto 5 (Rockstar) |
| 6 | F1 23 (EA) |
| 7 | Hogwarts Legacy (Warner Bros) |
| 8 | Red Dead Redemption 2 (Rockstar) |
| 9 | Street Fighter 6 (Capcom) |
| 10 | Call of Duty: Modern Warfare 2 (Activision Blizzard) |
* Digital data unavailable
GSD digital data includes games from participating companies sold via Steam, Xbox Live, PlayStation Network, Nintendo Eshop. Major participating companies are Activision Blizzard, Bandai Namco, Capcom, Codemasters, Electronic Arts, Embracer Group (including Gearbox, Koch Media, Sabre Interactive), Focus Entertainment, Konami, Marvellous Games, Microids, Microsoft (including Bethesda), Milestone, Nacon, Paradox Interactive, Quantic Dream, Sega, Sony, Square Enix, Take-Two, Ubisoft and Warner Bros. Nintendo and 505 Games are the notable absentees, alongside smaller studios.
Digital data includes games sold in Austria, Belgium, Bulgaria, Croatia, Cyprus, Czech Republic, Denmark, Finland, France, Germany, Greece, Hungary, Iceland, Ireland, Italy, Luxembourg, Malta, Netherlands, Norway, Poland, Portugal, Romania, Russia, Slovakia, Slovenia, Spain, Sweden, Switzerland, Turkey, Ukraine, and United Kingdom.
Physical data includes all games, but only those sold in Austria, Belgium, Denmark, Finland, France, Germany, Italy, Netherlands, Norway, Poland, Portugal, Spain, Sweden, Switzerland and United Kingdom.
Console hardware sales cover Belgium, Denmark, Finland, France, Italy, Portugal, Russia, Spain, Sweden and Switzerland. Accessories sales cover the same markets, but doesn't include Switzerland.