Eurogamer's Loman now a SpecialEffect VP
Media boss lends support to UK charity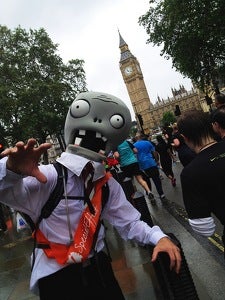 UK charity SpecialEffect has a new vice president in Eurogamer managing director Rupert Loman.
"SpecialEffect first appeared on my radar when they were chosen as one of GamesAid's supported charities," said Loman.
"It was amazing and inspiring to see the tireless work they were doing to help everybody enjoy video games, no matter their disability. I've been proud to support them via GamesAid and the Eurogamer Expo over the past few years so I'm delighted to now be named as a Vice President of the charity and look forward to helping them as much as I can."
The charity is dedicated to making gaming accessible to people struggling with sickness or disabilities, using specially created software, modified controllers and eye tracking technology.
Sports Interactive's Miles Jacobsen OBE, journalist Johnny Minkley, Splash Damage's Paul Wedgwood, and London Games Festival Director Kirsty Payne are also vice presidents of the charity.
"As many as 1 person in every 10 misses out on the joys and therapeutic benefits of gaming because of their disability," added charity founder and director Dr Mick Donegan.
"Rupert, via his support of the charity at the Eurogamer Expo, has been instrumental in gamers across the UK learning about and supporting our work. He was also fairly nifty on the football field when he joined fellow VP Johnny Minkley for SpecialEffect in our game against the Arsenal celebrity team last year! We are absolutely delighted and honoured that he has accepted our invitation to become Vice-President of our games-related charity."