eSports market to grow 43% to $463m in 2016 - Newzoo
Research firm expects US to lead the burgeoning eSports market, which should eclipse $1 bilion by 2019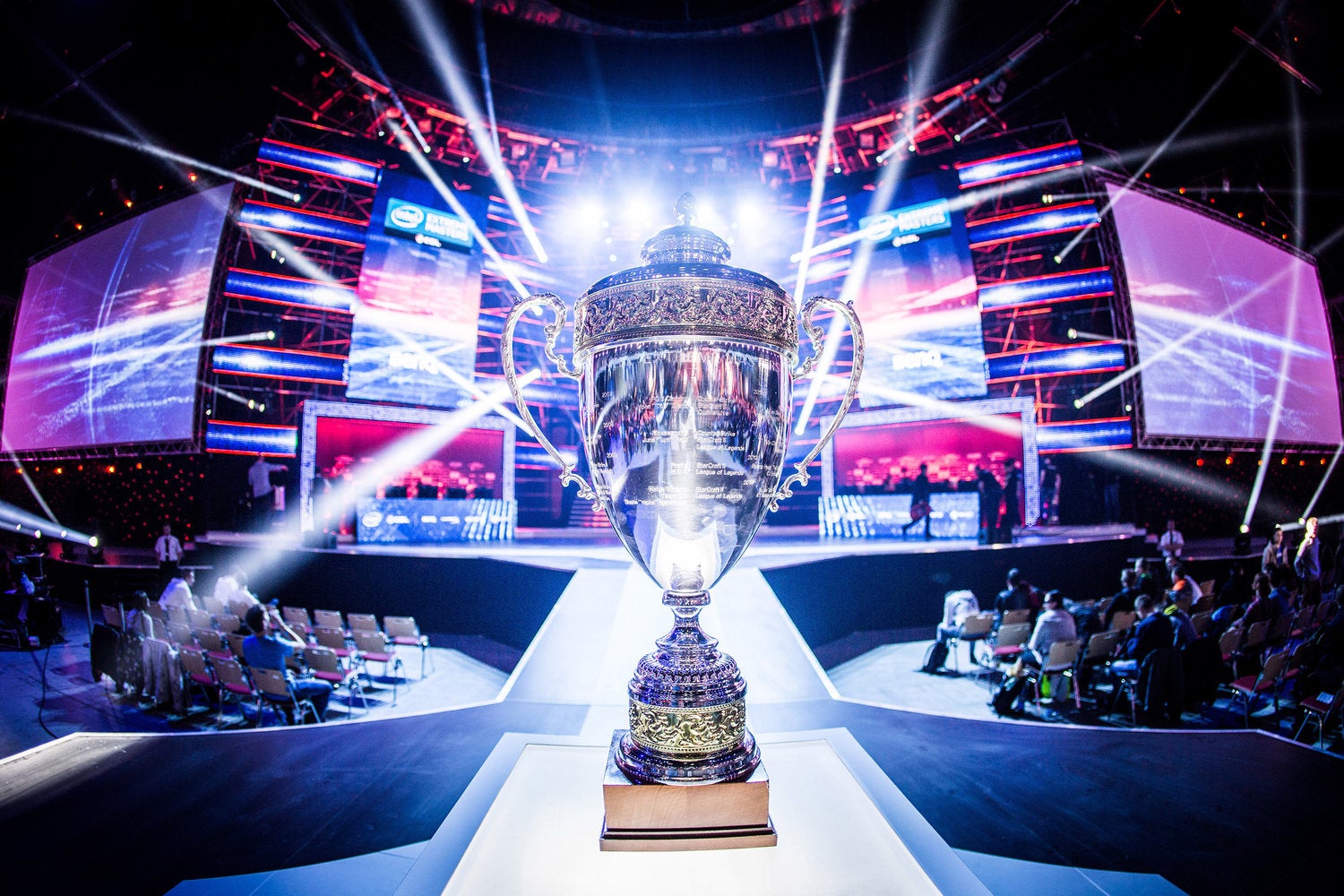 According to Newzoo's 2016 Global eSports Market Report, this year is expected to be a "pivotal" one for the eSports sector. The firm said that last year's tally for worldwide eSports revenues came to $325 million, and this year the full eSports economy should grow 43 percent to $463 million; Newzoo said this correlates with an audience of 131 million eSports enthusiasts and another 125 million "occasional viewers who tune in mainly for the big international events." Overall, Newzoo's report states that global and local eSports markets should jointly generate $1.1 billion in 2019.
Looking a bit deeper, Newzoo found that investment into and advertising associated with eSports continue to grow at a rapid clip. "This year has been dominated by the amount of investors getting involved in eSports. An increasing amount of traditional media companies have become aware of the value of the eSports sphere and have launched their first eSports initiatives. With these parties getting involved, there will be an increased focus on content and media rights. All major publishers have increased their investment into the space, realizing that convergence of video, live events and the game itself are providing consumers the cross-screen entertainment they desire from their favorite franchises," Newzoo commented.
Online advertising in particular is the fastest growing revenue segment within eSports, jumping up 99.6 percent on a global scale compared to 2014. North America is expected to lead the charge worldwide.
"In 2016, North America will strengthen its lead in terms of revenues with an anticipated $175 million generated through merchandise, event tickets, sponsorships, online advertising and media rights. A significant part of these revenues flows back to the game publisher, but across all publishers, more money is invested into the eSports economy than is directly recouped by their eSports activities," said Newzoo's eSports Analyst, Pieter van den Heuvel.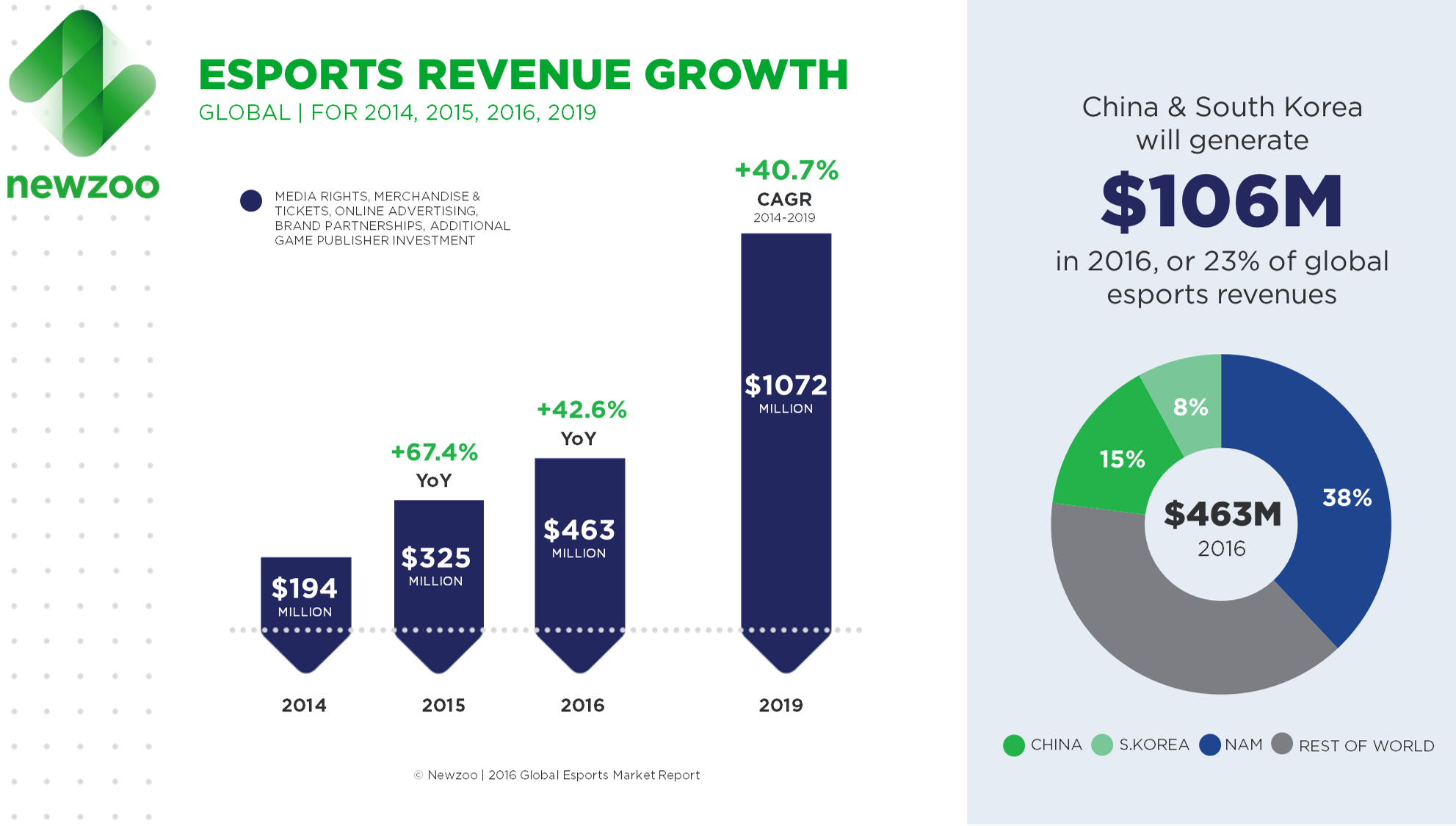 "China and Korea together will represent 23 percent of global esports revenues, totalling $106 million in 2016. Audience-wise, the situation is different, with Asia contributing 44 percent of global eSports enthusiasts. Growth in this region is, for a large part, fuelled by an explosive uptake in Southeast Asia."
While eSports is certainly on a good path for growth, game companies would be wise to not get too caught up by the hype. The average annual revenue per eSports enthusiast was $2.83 in 2015 and is expected to grow to $3.53 this year, Newzoo said, but that's still a factor four lower than a mainstream sport such as basketball, which generates revenues of $15 per fan per year.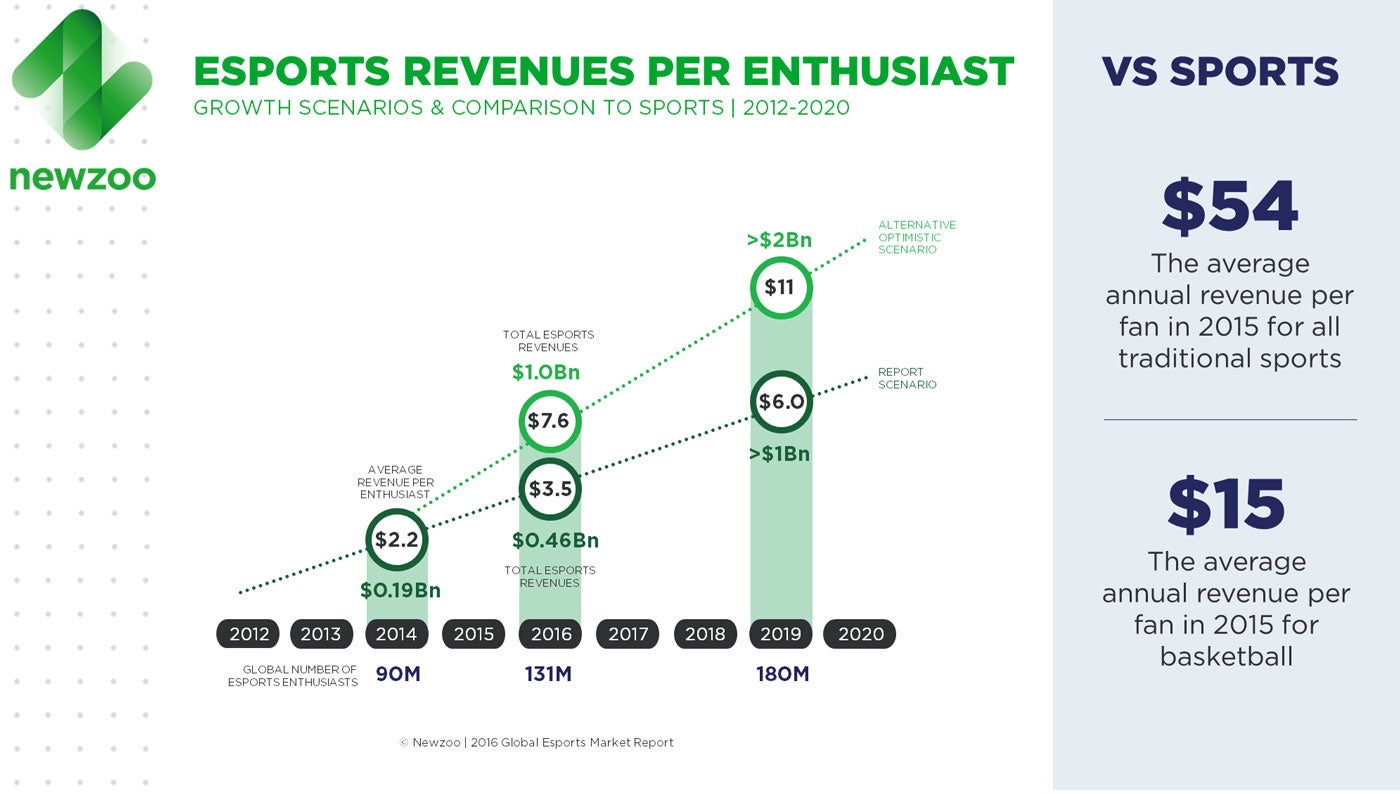 Peter Warman, CEO at Newzoo added, "The initial buzz will settle down and the way forward on several key factors, such as regulations, content rights and involvement of traditional media, will become more clear. The collapse of MLG was a reminder that this market still has a long road to maturity and we need to be realistic about the opportunities it provides. In that respect, it is in nobody's interest that current market estimates differ so strongly. Luckily, when zooming in on the highest market estimates of more than $700 million, the difference is explainable by an in-depth look. This estimate only differs in the revenues generated in Asia (Korea in particular), and by taking betting revenues into account. At Newzoo, we believe betting on eSports should not be mixed into direct eSports revenues as the money does not flow into the eSports economy. Similarly, sports betting is not reported in sports market reports."