Esports BAR returns to Miami this week
Conference's third year brings brands, publishers, and investors back to Florida for keynotes, mentorship, and roundtables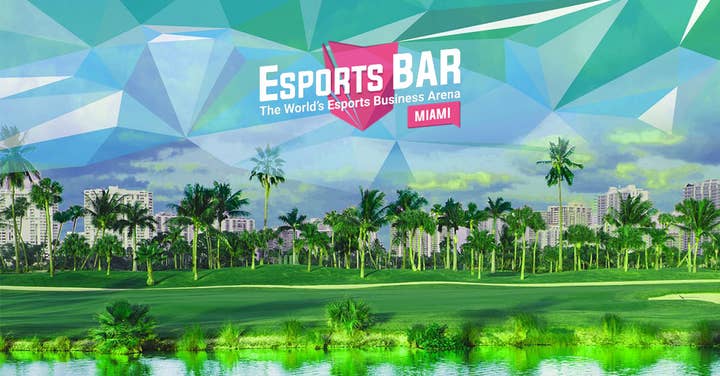 Esports BAR returns to Miami for a third year on October 2 for three days of keynotes, roundtables, and mentoring sessions between esports investors, brand partners, leaders, business heads, and broadcasters.
The event will open at 2 p.m. on Wednesday at the JW Marriott Miami Turnberry hotel with the opening keynote from esports commentator and Renegades founder Christopher 'MonteCristo' Mykles. Following the keynote will be three business insight conversations led by brand partners and publishers such as Anheuser-Busch experimental marketing director Joe Barnes, Endeavor SVP of esports Stuart Saw, Dignitas VP of Partners Christopher Mann, Pepsico marketing director Faye Stein, Hi-Rez Studios co-founder Todd Harris, and FanAI CEO Johannes Waldstein.
Thursday's program includes more keynotes, this time with focuses on investor insights and connections between traditional sports and esports. Speakers include MTG investment manager Arvin Ashrafi, Evolution Interactive founder Chris Chaney, Twitch Esports' Ron Rheingold, WePlay CMO Tatyana Zheltomirskaya, EA competitive gaming SVP and GM Todd Sitrin, and Millenial Esports Corp CEO Darren Cox. Evening keynotes will focus on audience opportunities for media and will feature talks by Nielsen Esports' Nicole Pike, MediaPro Group new business manager Maria Carmen Fernandez, and Lagardère Sports esports director André Fläckel.
The event closes on Friday with two panels focused on the Latin American esports industry, with speakers including Tracylicke Brazil CEO Pipo Calazans, Claro product director Alfredo Souza, and BBL founder Leo De Biase. Finally, the closing panel is entitled "Esports: A 360 Degree Entertainment Experience" and will include Mykles, Overactive Media CEO Chris Overholt, Telstra Broadcast Services head of global sales Anna Lockwood, and Dota 2 champion Sebastien 'Ceb' Debs.
As with previous Esports BAR conferences, Miami's event will include invitation-only roundtable sessions and 1-to-1 mentorship meetings on topics such as working with brands, media and publishers, creating immersive events, education and collegiate esports. Though the deadline has passed for participation in these sessions, more opportunities will be available at Esports BAR in Cannes on February 11 through 13.
Esports BAR currently anticipates around 500 attendees from around 40 countries, with 40 advisors and mentors participating in roundtables and mentorship sessions. Registration to attend the keynote sessions as a delegate is still open.
Gamesindustry.biz is a media partner to Esports BAR, which is run by our parent company Reed Midem.