Earth Defense Force 6 is August's top cumulative seller | Japan Monthly Charts
Nintendo takes the gold, but combined platform sales of new EDF outperformed Switch Sports in just a few days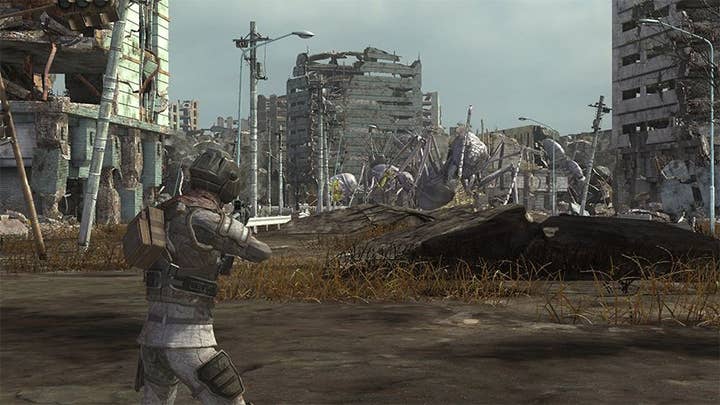 At a glance:
Switch OLED made up almost half of all hardware sales in August
Nintendo shifted 890,800 Switch games, the lowest figure of 2022 so far
Sony accounted for over 25% of all games sold
Nintendo Switch Sports scored 1st place as the biggest selling boxed game in August 2022, and sold approximately 83,000 copies last month.
Earth Defense Force 6 is a fresh entry at No.2, the title launched exclusively in Japan in the last week of August and sold around 68,300 Switch copies in just a few days.
Though the Switch version did not outperform Nintendo Switch Sports on its own, the PlayStation 4 version of Earth Defense Force 6 came in at No.13 with 24,300 copies sold, making it the best selling title of the month with a cumulative 92,600 copies shifted across all available platforms.
Mario Kart 8 Deluxe moved up two places to No.3 with 56,900 sold, and Xenoblade Chronicles 3 and Kirby and the Forgotten Land remained in the top 10 for the month, selling 49,200 and 45,600 units in Japan, respectively.
SD Gundam Battle Alliance was another new entry at No.7, the Bandai Namco title sold around 38,600 Switch units in the last week of August. It also sold 17,900 PlayStation 4 copies and 9,600 PlayStation 5 copies, for a total 66,100 copies sold.
Soul Hackers 2 also entered the August chart during its final week, and sold 31,600 Switch copies, making it to No.9. It also sold 20,200 PlayStation 5 copies, for a total of 51,800 units shifted across all platforms.
In total, 890,800 Switch games were sold in Japan last month, a sizable decrease from the 1.3 million shifted in July.
Meanwhile, the number of PlayStation 4 titles sold reached 206,900, making up 17.1% of the market share. PlayStation 5 games sold surpassed 106,000, accounting for 8.8% of the market. Together, Sony cornered 25.9% of all games sold during August, its biggest share since March 2022.
325,700 Switch units were sold during August, slightly less than the month prior, but still enough to see the console make up 72.5% of all hardware sold. The Switch OLED made up 47.5% of all hardware sold in Japan last month, driven by the Splatoon 3 edition console.
Splatoon 3 launched September 9, so sales of the title alone will be reported in next month's charts.
Here's Japan's Top 10 best-selling physical games of July 2022, courtesy of Famitsu:
Nintendo Switch Sports (Switch | Nintendo)
Earth Defense Force 6 (PlayStation 4 | D3 Publisher)
Mario Kart 8 Deluxe (Switch | Nintendo)
Xenoblade Chronicles 3 (Switch | Nintendo)
Kirby and the Forgotten Land (Switch | Nintendo)
Minecraft: Switch Edition (Switch | Microsoft Japan)
SD Gundam BAttle Alliance (Switch | Bandai Namco)
Monster Hunter Rise (Switch | Capcom)
Soul Hackers 2 (PlayStation 4 | Atlus)
Ring Fit Adventure (Switch | Nintendo)