EA reaffirms strong relations with Sony, Nintendo
Execs say FIFA 14 Xbox One giveaway wrongly perceived as a strategic tilt toward Microsoft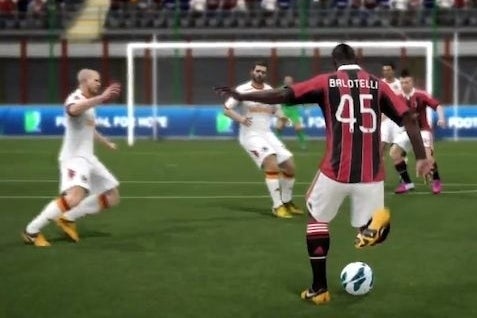 A rash of recent exclusivity deals and cross-promotions between Microsoft and Electronic Arts is not indication that the publisher is throwing its weight behind the Xbox One maker, according to multiple reports out of Gamescom this week. Speaking with CVG, EA Labels president Frank Gibeau stressed the publisher remains platform agnostic.
"One of the things that struck me this week is how a tactical deal with one of our platform partners has been blown out and perceived as strategic tilt - that's a messaging error on our part. There is no strategic tilt," Gibeau said.
He added that Sony is executing well on its PlayStation 4 promotion to date, praising the company for its indie outreach, as well as being "clear and disciplined and consistent with their policies." And while there may not be much right now in the way of EA-Sony cross-promotions, Gibeau noted "it's a long cycle," and said both the PS4 and Xbox One are important to EA.
While Gibeau didn't extend that importance to the Wii U, EA Sports executive VP Andrew Wilson discussed the publisher's relationship with Nintendo in a separate interview with IGN.
"We're not building for Nintendo right now, but we have a tremendous relationship with them and have had a long relationship with them, and should it make sense for us to do so in the future we'll absolutely roll that into the plan," Wilson said.
Wilson also addressed the perception that EA has been leaning Microsoft's way, and like Gibeau, stressed the company's neutrality in the console wars.
"You know I think we'll have a great relationship with Microsoft for the foreseeable future," Wilson said. "But I also don't think that means we won't have a great relationship with Sony. I mean at the end of the day we're a platform agnostic company. We have great relationships with Sony, Microsoft, and Nintendo. There's different things we do with different partners on different titles and different franchises."
This week, EA announced that it would be giving away a copy of FIFA 14 with every Xbox One sold at launch. Beyond that, the FIFA Ultimate Team Legends mode will be exclusive to Microsoft's consoles this year, Xbox One will receive timed exclusivity on Battlefield 4 DLC, and Respawn's much-anticipated Titanfall will be coming to PC and Xbox One, but not PS4.