EA pulls new releases from GAME shelves until further notice
UPDATE: "We will not sacrifice long-term credit requirements for short-term sales," says retailer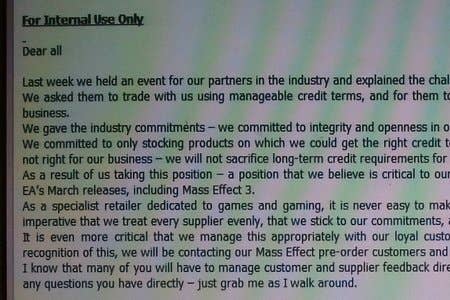 EA has pulled its new releases from both GAME and Gamestation's schedules, with SSX the last confirmed game from the publisher to be stocked until further notice.
Several branches of both chains have confirmed that pre-orders for EA titles, including BioWare's Mass Effect 3, have been cancelled, with refunds of pre-order deposits being promised, plus a £5 credit.
GAME have issued an official statement on the issue, explaining the refund situation in full.
"We currently have a supply issue with regards to Mass Effect 3, which means that GAME and gamestation will not be able to fulfil orders for Mass Effect 3 at this time. We want to give customers as much notice about this as possible and provide them with a range of options ahead of launch.
"We appreciate that this is disappointing for our customers, and we apologise sincerely for the inconvenience that this will cause. We value the loyalty of our customers very highly and as a gesture of goodwill we are providing the following:
Customers who have pre-ordered in store, will have the opportunity to add £5 worth of Reward points to their card if they visit us from today through to 16 March 2012.
Customers who have placed a deposit for the title will receive a refund as well as the £5 worth of Reward points between 1 and 16 March 2012.
Customers who have pre-ordered online, will be provided with an online voucher to the value of £5 to be spent on any purchase on our sites.
GamesIndustry.biz has also obtained an image of the internal email circulated to GAME and Gamestation branches explaining the situation (pictured) to staff, with the company explaining it is struggling with credit terms from its publishing partners
"We gave the industry commitments - we committed to integrity and openness in our dealings, and working with everyone equally. We committed to only stocking products on which we could get the right credit terms, regardless of the title or supplier," the email reads. "We will not stock products if the terms are not right for our business - we will not sacrifice long-term credit requirements for short-term sales opportunities.
"As a result of us taking this position - a position that we believe is critical to our long term health as a business - we have taken the very difficult decision not to stock EA's March releases, including Mass Effect 3.
"As a specialist retailer dedicated to games and gaming, it is never easy to make a decision to stock a title, particularly one with such a strong fan base. But it is imperative that we treat every supplier evenly, that we stick to our commitments, and that we don't sign up to payment terms that will hamper us further in the future.
"We will not stock products if the terms are not right for our business - we will not sacrifice long-term credit requirements for short-term sales opportunities."

Internal GAME email.
"It is even more critical that we manage this appropriately with our loyal customers/ We know they will be disappointed regarding Mass Effect in particular and in recognition of this we will be contacting our Mass Effect pre-order customers and as a gesture of goodwill we will be offering them £5 of reward card/elite points."
EA is pointing customers towards an announcement on the official Mass Effect 3 website which has instructed customers who have pre-ordered special editions of Mass Effect 3 from anywhere but Zavvi, Play, Amazon or ShopTo to re-order them to guarantee their purchase.
"For customers who have pre-ordered the N7 Collector's Edition please re-order your copies through these retailers," reads an announcement.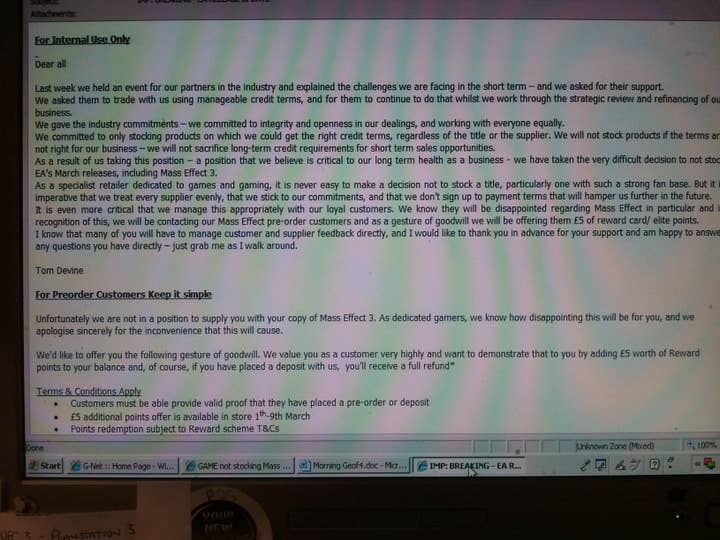 "For further information regarding the Mass Effect 3 Standard Edition with the N7 Warfare Gear in-game weapons pack, please check this page later today. If you have placed a deposit for a pre-order or are uncertain that your existing pre-order will be guaranteed, please contact your local retailer. Your local retailer is doing everything possible to make this process as smooth as possible to ensure you get your copy on launch day."
As well as Mass Effect 3, GAME will also not be taking pre-orders or deposits for FIFA Street, Tiger Woods 13 and Sims 3 Showtime.
According to our sister site Eurogamer, Nintendo's Mario Party 9 is another title that GAME will not be stocking on release day.
GAME's relationships with publishers have been increasingly strained. During February it has failed to stock new releases including Wii game The Last Story and Namco's Tekken 3D Prime Edition.
More significantly, Ubisoft's entire line-up for the PlayStation Vita was missing during launch week - although this has since made it into stores following renegotiations.
Both GAME's headquarters and Electronic Arts have been approached for confirmation.