EA locks down college football deal
Publisher signs new three-year deal with Collegiate Licensing Company for more than 150 schools, conferences, and bowl games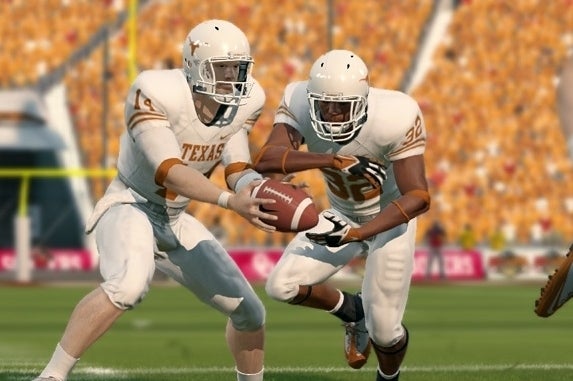 Electronic Arts may have lost the NCAA license, but that won't stop it from continuing its college football franchise. The publisher today confirmed for GameSpot that it has signed a new three-year, non-exclusive deal with the Collegiate Licensing Company (CLC) to include the trademarks of more than 150 schools, conferences, and bowl games in its upcoming college football titles. The deal covers the use of logos, trademarks, stadiums, and mascots of each consenting licensee.
Earlier this week, the NCAA announced that it would not be renewing its licensing agreement with EA for the NCAA Football series, citing the business climate and costs of ongoing litigation. The NCAA and EA have been sued by a number of former collegiate athletes who allege that their likenesses were used in the games without consent or compensation. The NCAA was also impacted by a suit against EA alleging anti-consumer behavior in holding a virtual football monopoly. EA settled that dispute last year, and as part of the deal pledged not to sign another exclusive licensing agreement with the NCAA for five years.
While the new deal with the CLC was news, EA had already made clear its intention to continue developing the series. Shortly after the NCAA's announcement, EA released a statement saying that it was already working on next year's college football title, and cited its strong relationship with the CLC.