EA launching Xbox One subscription service
[UPDATE] Sony opted out of $5 a month service, claiming it doesn't represent "good value" for the gamer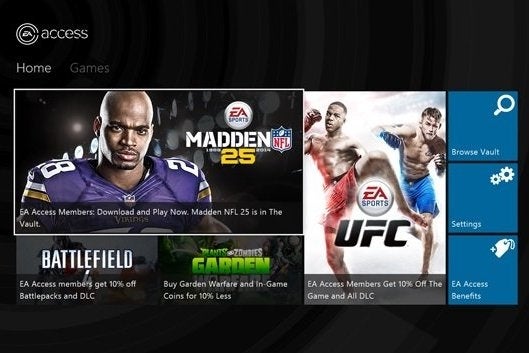 Update: EA Access is unlikely to make it to the PlayStation 4, with Sony going on record saying that it doesn;t represent "good value" for its customers.
In a statement issued to Game Informer, Sony clarified its position on EA's $5 a month service, which was only announced for Xbox One. Apparently, Sony "evaluated" the idea and decided that it didn't fit in with its plans.
"PlayStation Plus memberships are up more than 200 per cent since the launch of PlayStation 4, which shows that gamers are looking for memberships that offer a multitude of services, across various devices, for one low price. We don't think asking our fans to pay an additional $5 a month for this EA-specific program represents good value to the PlayStation gamer."
Original Story: Electronic Arts is taking its games-as-a-service approach another step further. The company today announced EA Access, a new subscription service exclusive to Xbox One that allows players to download and play a selection of EA games (dubbed the EA Vault) for a monthly or annual fee.
Launching in beta today, EA Access will initially include FIFA 14, Madden 25, Peggle 2, and Battlefield 4, with EA promising to add more titles soon. In addition to the downloadable games, EA Access subscribers will also receive a handful of perks. First, they will receive a 10 percent discount on all EA purchases from the Xbox Games Store (including full games and downloadable content). On top of that, EA Access members will be able to download and play trial versions of new EA games up to five days before their release dates, and carry over progress to the final release if they decide to buy the game.
EA Access will be available on a monthly basis for $5, or $30 for an annual membership. The publisher has also teamed up with retailers in North America and Europe to sell membership cards in stores. The service is currently in a limited beta, but EA said it would be made available to all Xbox One owners soon.
There are some limitations to the program. For one thing, Respawn's Titanfall is excluded from all EA Access promotions. On top of that, downloaded titles from the EA Vault will only be playable if a user has an active EA Access subscription. However, progress in games will be saved, so players who let their membership lapse and rejoin later will be able to pick up where they left off. Additionally, an EA representative told GamesIndustry.biz that there are no plans to remove titles from the EA Vault selection once they have been added in.
This is not the first time EA has dabbled with a cross-game subscription service. In 2011, EA Sports launched its Season Ticket subscription service, which included early access trials and DLC discounts for the publisher's sports games, and commanded a $25 annual fee.