EA builds its own esports broadcast studio
New facility "signals EA's commitment to competitive gaming for years to come," will host tournaments, esports-focused shows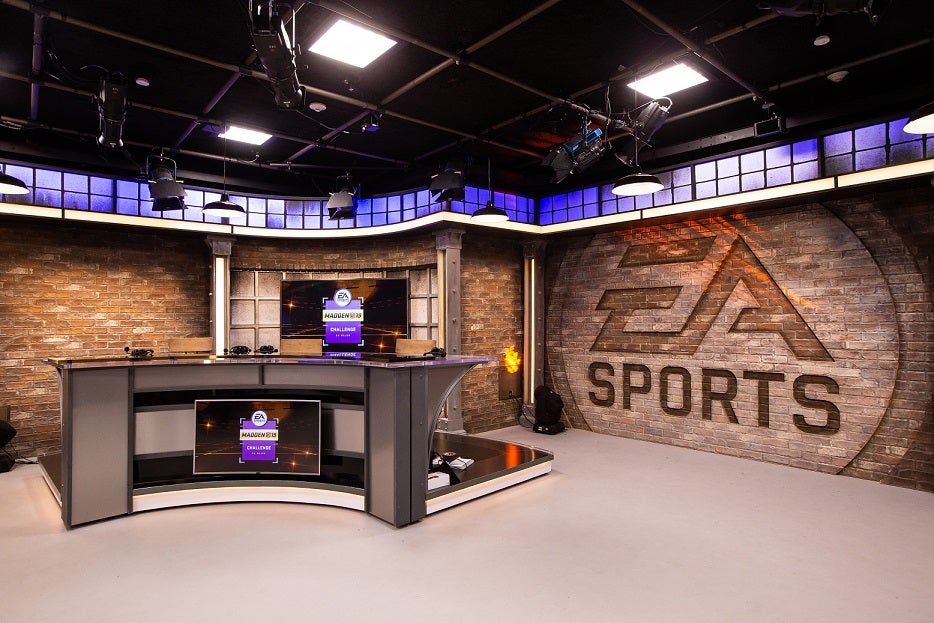 Electronic Arts today announced the creation of a new esports video production studio at the company's Redwood Shores headquarters. The EA Broadcast Center will be used to host tournaments for EA games and create new esports-focused shows, starting with this weekend's Madden NFL 19 Challenge.
The Broadcast Center contains two studio sets, one a competitive gaming space with seating for an audience, and the other a Player's Lounge "designed to mimic a New York loft."
Todd Sitrin, SVP and GM of EA's Competitive Gaming Division, tells GamesIndustry.biz the new studio "signals EA's commitment to competitive gaming for years to come." However, it is not necessarily a centralization of the company's esports events.
"The studio provides us with critical flexibility, but we will continue to look at each competitive event individually analyzing what is best for the community, the players, the competitive franchise and our partners," Sitrin says. "Some events will work best at our EA Broadcast Center, others may be better suited for a remote location, esports convention environment or full-scale arena attracting thousands."
In fact, Sitrin doesn't see the new studio as a change in strategy so much as a furthering of its existing approach.
"EA's vision has always been to 'Make Stars Of All Our Players' by encouraging competition at every skill level," he says. "From a business perspective, this increases deeper engagement in our games as well as attracts new and lapsed players. And because we built our competitive gaming program on top of Ultimate Team, that higher engagement translates directly into increased monetization."
He says that the division has been a big driver in Ultimate Team revenue growth, noting that viewership for FIFA's second competitive season tripled the numbers of the inaugural campaign.
"Over the last 2-and-a-half years since we started executing our programs, we've steadily increased our viewership," Sitrin says. "It is now at a level where we can drive meaningful out-of-game revenue from sponsorship, advertising, licensing, and media rights."
He adds, "Two years ago, when I would meet with companies in the esports industry, the typical response was, 'Who cares about sports esports?' A year ago, the typical response was, 'You guys are doing some interesting things, so let's at least talk about what you plan to do.' This year the typical response was, 'We're impressed. We get what sports can be and we are ready to invest with you.'"