E3: The YouTuber show
EA's press conference may have been a sign of things to come
This article was first published in our E3 daily briefing email. If you want to sign up to it, click here
For those wondering how 15,000 consumers might change E3, EA's latest press conference offered us an interesting glimpse.
It was your typical EA showcase, driven by blockbusters (like Star Wars: Battlefront II, FIFA 18 and Need for Speed: Payback) and featuring the odd surprise, such as BioWare's new IP Anthem, indie project A Way Out and whatever SEED is.
What made it different, however, wasn't in the content, but in the presentation. Just before the video stream went live, the audience was told that over 300 'content creators' were in the room (that's YouTubers, or 'influencers', to you and I). It set out the tone for what was about to come.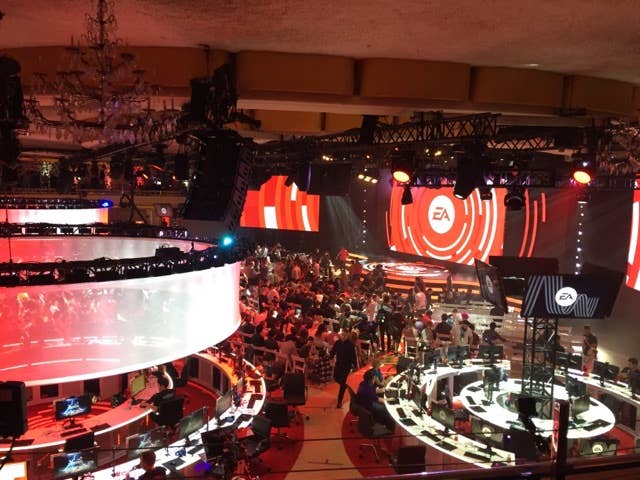 The following 110 minutes (which took place in an area dubbed the 'Creators Cave') was an online charm offensive. YouTube personalities, whether that's iJustin, Jesse Wellens or Men In Blazers, co-hosted the event alongside the developers and execs. While consoles were set up in zones around the arena, designed specifically for fans who wanted to stream directly to their communities.
EA didn't call these people media, I must stress. These were "gamers", or "fans" or "content creators" (or in one video, "Game Changers"). The terms 'media' or 'journalist' would suggest independence, and these people were certainly EA cheerleaders. Many of them were even flown out by the publisher especially for the show. Depending on your point-of-view, it was either a masterclass in online marketing, or a little grubby (or a bit of both).
"Many of these 15,000 consumers will be bringing their smartphones and their webcams to the show floor"
Yet regardless, what this shines a light on is the possible future direction of E3. This year, E3 organizers the ESA is opening its doors to 15,000 gamers. It's hardly a figure that will worry US consumer show PAX, but judging by EA's efforts, it will still likely please the event's exhibitors.
Many of these 15,000 consumers will be bringing their smartphones and their webcams to the show floor. They'll be posting up videos to Facebook Live, to YouTube, to Twitch, and reacting to what they played and saw.
Journalism and traditional media still play a crucial and independent role in games, and that includes at E3. But from a PR perspective, millions of video views for Star Wars: Battlefront II is now worth more than a two-minute segment on ABC News.
YouTubers also bring an element of celebrity to an industry that had previously lacked it. One prominent exec told me after the EA show ended that "some Battlefield YouTubers are more famous than the developers that made the game"... and sadly that's actually true.
As E3 continues to evolve itself to ensure its continued relevance in an industry that simply refuses to sit still, its relationship with Twitch-loving gamers may prove to be its most significant asset. And as a result, we can expect the model laid down by EA's new press conference to be adapted by other events moving forward. I even suspect we'll see 'influencers' taking a leading role in more conferences over the course of the next few days.
Traditional media, retailers and other industry types may not like it, but then E3 stopped being all about them long ago.