Dragon's Quest X tops Japanese chart with 420,000 sales
Wii MMO sparks hardware resurgence as Nintendo dominates chart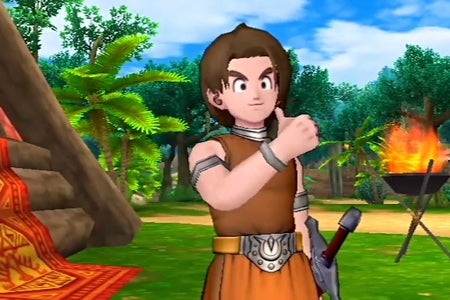 Square-Enix's storied franchise Dragon Quest has dominated the Japanese chart with its first foray into MMO territory, despite the game seeing a significant drop in sales compared to other titles in the series.
Whilst X managed to shift 420,311 units in its opening week, quadrupling the number of Wii consoles sold in the process, the DS title DQ IX sold a huge 2,353,440 copies within two days of launch. Whilst the sales numbers aren't as impressive for X, the alternative revenue streams which it generates should prove profitable in the long-run.
Elsewhere in the chart, Nintendo dominate the upper echelons, taking eight of the top ten positions with three Wii and 3DS entries apiece and two for the vanilla DS. Sony take the remaining two with Digimon PSP in eighth and Persona 4 on PS3 at ten.
All chart data is courtesy of Enterbrain, via Andriasang.
[WII] 01. Dragon Quest X (Square Enix, 08.02.2012): 420,311 (NEW)
[3DS] 02. New Super Mario Bros. 2 (Nintendo, 07.28.2012): 213,863 (644,048)
[NDS] 03. Pokemon Black & White 2 (Pokemon, 06.23.2012): 51,342 (2,525,465)
[3DS] 04. Demon Training (Nintendo, 07.28.2012): 29,170 (75,698)
[WII] 05. Just Dance Wii 2 (Nintendo, 07.26.2012): 28,553 (89,935)
[NDS] 06. All Kamen Rider Rider Generation 2 (Namco Bandai, 08.02.2012): 20,667 (NEW)
[3DS] 07. Taiko Drum Master Chibi Dragon and the Mysterious Orb (Bamco Nandai, 07.12.2012): 16,394 (133,261)
[PSP] 08. Digimon World Redigitize (Namco Bandai, 07.19.2012): 16,162 (119,507)
[WII] 09. Kirby 20th Anniversary Special Collection (Nintendo, 07.19.2012): 15,414 (147,134)
[PS3] 10. Persona 4 Arena (Atlus, 07.26.2012): 15,176 (132,494)
[PSP] 11. All Kamen Rider Rider Generation 2 (Namco Bandai, 08.02.2012): 14,530 (NEW)
[PSP] 12. Super Danganronpa 2 (Spike Chunsoft, 07.26.2012): 13,463 (72,575)
[3DS] 13. Kobito Zukan Kobito Kansatsu Set (Columbia, 07.26.2012): 12,169 (38,315)
[PS3] 14. Jikkyou Powerful Pro Baseball 2012 (Konami, 07.19.2012): 11,710 (99,219)
[WII] 15. Wii Sports Resort (Nintendo, 06.25.2009): 11,545 (2,946,049)
[PSP] 16. Nayuta no Kiseki (Falcom, 07.26.2012): 11,030 (94,866)
[3DS] 17. Rune Factory 4 (MAQL, 07.19.2012): 9,982 (117,495)
[3DS] 18. Dragon Quest Monsters Terry's Wonderland 3D: (Square Enix, 05.31.2012) 8,672 (857,489)
[PSP] 19. Corpse Party The Anthology: (5pb., 08.02.2012) 8,361 (NEW)
[WII] 20. Mario Party 9 (Nintendo, 04.26.2012): 7,996 (502,591)
[3DS] 21. Smile PreCure! Let's Go! Marchen World (Namco Bandai, 08.02.2012): 7,985 (NEW)
[3DS] 22. Little Battler eXperience Baku Boost (Level-5, 07.05.2012): 7,542 (103,738)
[PS3] 23. Tales of Vesperia PS3 the Best (Namco Bandai, 08.02.2012): 7,229 (NEW)
[PSP] 24. Jikkyou Powerful Pro Baseball 2012 (Konami, 07.19.2012): 7,192 (46,801)
[3DS] 25. Monster Hunter 3G (Capcom, 12.10.2011): 6,219 (1,509,779)
[WII] 26. Taiko Drum Master Wii Ultimate Version (Namco Bandai, 11.23.2011): 6,170 (261,185)
[PSP] 27. Warriors Orochi 2 Special (Tecmo Koei, 07.19.2012): 5,880 (39,919)
[WII] 28. Wii Party (Nintendo, 07.08.2010): 5,739 (2,316,434)
[3DS] 29. Mario Tennis Open (Nintendo, 06.23.2012): 5,541 (275,567)
[3DS] 30. Mario Kart 7 (Nintendo, 12.01.2011): 5,381 (1,776,016)
Nintendo 3DS: 118,786 (235,974)
Wii: 41,561 (10,549)
PlayStation 3: 14,544 (18,160)
PlayStation Portable: 11,989 (14,029)
PlayStation Vita: 8,203 (9,081)
Xbox 360: 605 (632)
PlayStation 2: 430 (439)
Nintendo DSi: 372 (496)