Dontnod, Ubisoft Montreal and EA Ghost among Quo Vadis speakers
Berlin dev conference will also feature talks from Unity's David Helgason, Coldwood's Martin Sahlin and the IGDA's Kate Edwards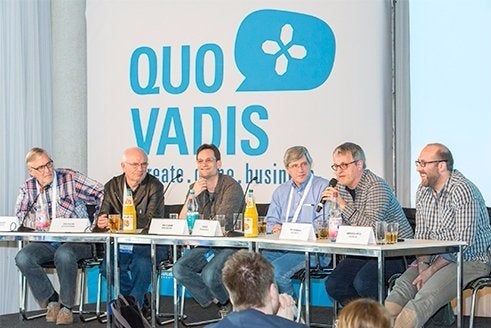 Ubisoft Montreal, EA's Ghost Games and all three founders of Dontnod Entertainment will be among the high-points of Quo Vadis, the Berlin-based game developer conference.
Luc Baghadoust, Michel Koch and Raoul Barbet will address the crowd following the commercial success of Dontnod's critically admired episodic series, Life Is Strange. They will be joined by a host of leading independent developers, like Coldwood CEO Martin Sahlin, whose last project, Unravel, won over gamers and critics alike.
The industry's biggest companies will also be well represented. Ubisoft Montreal's Alex Hutchison will bring the experience he gained as creative director on AAA titles like Assassin's Creed 3 and Far Cry 4, and as lead designer on Will Wright's Spore. Henrik Johnson, a senior developer at EA Ghost, is currently working on the Need For Speed franchise, but his career stretches back as far as Ion Storm's Anachronox more than 15 years ago.
Other confirmed speakers at Quo Vadis 2016 include Unity's David Helgason, Crytek's Avni Yerli, ZeniMax Online's Matt Firor and IGDA executive director Kate Edwards.
Quo Vadis is a centrepiece event of Berlin's International Games Week. More than 3,000 people attended last year's conference to see a mixture of panel discussions, presentations and workshops. This year, it will be held at Station Berlin from April 18 to April 20.
For more information, or to purchase tickets, follow the link.
GamesIndustry.biz is a media partner for the Quo Vadis conference. Our travel and accommodation costs will be provided by the organiser.