Disney's Epic Mickey 2 sings a brand-new song
Warren Spector's next Epic Mickey game has finally surfaced with a musical bent and added co-op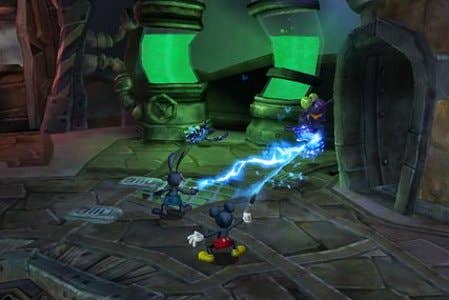 Disney has finally revealed Epic Mickey 2: The Power of Two, the next installment in the new revitalization of the Mickey Mouse brand. Spector went into detail on the title in an interview with the Associated Press at the recent Game Developers Conference. Epic Mickey 2 will be a co-op adventure, and this time, not only will Mickey talk, but he'll also sing.
"I'm such a geek about musicals. I love the co-op and next-gen stuff, but for me, when a character breaks into song, which they do on a regular basis in this game, it's magic," said Spector.
The game will draw on the talents of Dorothy of Oz composer Jim Dooley and lyricist Mike Himelstein to bring the songs to life. Veteran voice actors will be on hand as well, including actor Frank Welker as the voice of Oswald the Lucky Rabbit, the first game's villain and this game's second protagonist.
In his recent interview with GamesIndustry International, Spector mentioned his desire for co-op play and voice acting in an Epic Mickey follow-up. With the announcement of Epic Mickey 2, it seems he's implemented that desire in the game.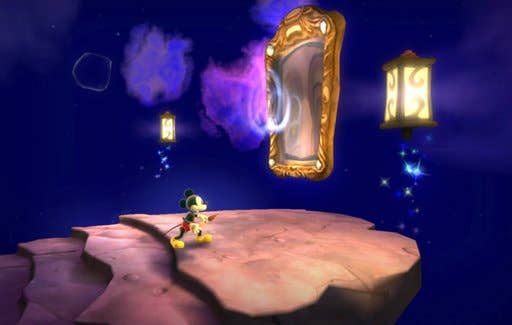 "It's drop-in, drop-out co-op," said Spector. "You can sit down at any time with a friend who is playing as Mickey, and you can take control of Oswald. If you're playing as a single player, Oswald will be there every second of the game. He's not just a multiplayer character. He's a helper, whether you're playing alone or with a friend or family member."
This move gives Spector and Disney the chance to re-introduce a classic character to a brand-new audience. "We couldn't ask people to care about this guy they've never heard of or no one has ever seen since 1928 in a Disney film," said Spector. "It was unrealistic to expect people to care in the first game, but now we know they care. We hear about it from players all the time. They really, really got into Oswald, which is hugely gratifying. "
Players of the first Epic Mickey complained about the camera, and Spector's team believes they've made it even better.
"We've had a team working on the camera from literally the day we finished the first game," said Spector. "They'll be working on it until the day we ship the second game. (There have been) over 1,000 specific changes made to the camera. Our goal is that you will not have to touch the manual camera controls even once to play through the main story path of this game."
Epic Mickey 2: The Power of Two is coming back to Nintendo's Wii, but it will also be gracing the Xbox 360 and PlayStation 3 this time around. No specific release date was given, but the release window is fall of this year.