Disney, Activision both claim landslide victory in toys-to-life category
Publishers highlight dueling sales figures as Nintendo enters race with 2.6 million Amiibos sold in US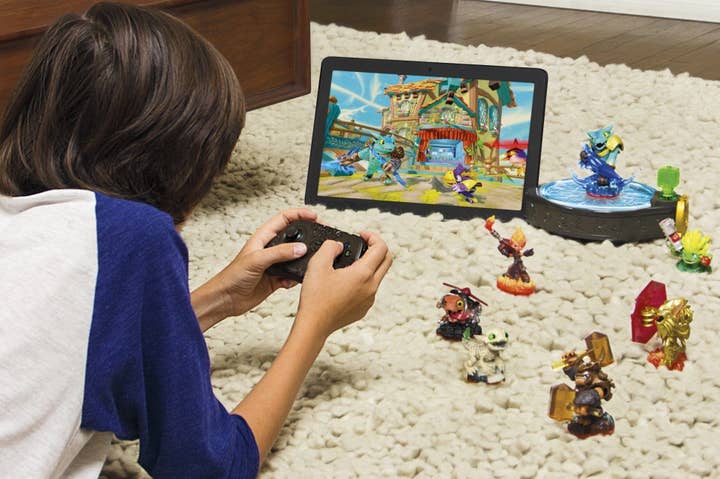 Activision and Disney are clearly the two biggest players in the toys-to-life category right now, but there's some debate as to which one can lay claim to the title of category leader. With the industry-tracking NPD Group releasing its year-end US retail sales data yesterday, both Activision and Disney proclaimed themselves the victor.
Disney Interactive president James Pitaro touted Infinity's success in a statement, saying "The Disney Infinity platform is now the clear market leader, and positioned for continued growth in the years to come." Citing the NPD Group's data, Disney claimed Infinity 2.0 outperformed Skylanders: Trap Team in total sales revenue for 2014 despite being available on three fewer platforms. On the platforms where both games released, Disney said Infinity 2.0's Starter Pack bundles outsold Trap Team's by 72 percent for the full year.
Predictably, Activision Publishing CEO Eric Hirshberg had a different takeaway. Hirshberg released a statement proclaiming Skylanders: Trap Team "the top-selling kids game in the world," citing worldwide data compiled from The NPD Group, GfK, and Activision's internal estimates.
"Skylanders continues its leadership position as the #1 kids video game franchise globally as well as in the US by wide margins," Hirshberg said. "As a global franchise in 2014, Skylanders is 30 percent bigger than its nearest competitor. And Skylanders Trap Team outsold its nearest competitor globally by 17 percent. As the creators of the toys-to-life category, we are thrilled to continue to lead it for the third consecutive year."
This year also saw a third major player enter the toys-to-life category in the form of Nintendo. While the Mario maker didn't claim victory in the genre, it has carved out a chunk of the market, announcing that 2014 saw US sales of roughly 2.6 million Amiibo figures that interact with a variety of Nintendo titles. One such game, Super Smash Bros. for Wii U, has sold 1.3 million copies in the US to date.