Disney acquiring Lucasfilm
Mickey Mouse outfit purchasing Star Wars company, focusing gaming business more on social and mobile than console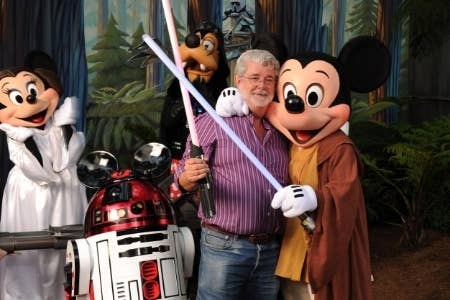 The Walt Disney Company is adding a few more universes to its empire, as it today announced an agreement to acquire Lucasfilm from its owner, George Lucas. The multimedia giant will purchase Lucasfilm, including the Star Wars franchise, for $4.05 billion in roughly equal amounts of cash and stock.
On top of the acquisition, Disney announced that it is working on Star Wars: Episode 7, targeting a 2015 release for the sci-fi sequel. In a post-announcement conference call, Disney executives said Episode 7 would be the first film in a new trilogy, with Episodes 8 and 9 expected to follow in 2017 and 2019. Lucas will serve as a creative consultant for that project, and future Star Wars films.
"For the past 35 years, one of my greatest pleasures has been to see Star Wars passed from one generation to the next," Lucas said in a statement. "It's now time for me to pass Star Wars on to a new generation of filmmakers. I've always believed that Star Wars could live beyond me, and I thought it was important to set up the transition during my lifetime."
Lucasfilm is more than just Star Wars. The company also owns the Indiana Jones franchise, as well as game developer LucasArts. A LucasArts representative commented on the news, telling GamesIndustry International, "For the time being all projects are business as usual. We are excited about all the possibilities that Disney brings."
[UPDATE]: Shortly after LucasArts made that comment, Disney provided a little more insight on the company's plans for its new acquisition's gaming business.
"We're likely to focus more on social and mobile more than we are on console," one Disney executive said on the company's conference call. He went on to say that Star Wars will still be appearing on consoles, but in the future Disney plans to look "opportunistically" at the market, working more through licensing its games to others rather than publishing them itself.
[Photo credit: Todd Andersen]