Dishonored UK's biggest new IP launch of 2012
Pokemon and XCOM also invade the UK software chart top ten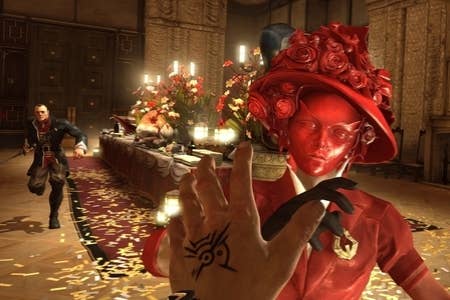 Dishonored, the new title from Arkane Studios and Bethesda, might have debuted at 2 on the UK software chart this week, but that hasn't stopped it stealthily grabbing the title of biggest IP launch of 2012 so far.
FIFA 13 managed to hang on to the top spot, but a fall in sales of 78 per cent saw Resident Evil 6 drop from second to fourth place.
Elsewhere in the top ten Pokemon Black Version 2 entered at 3, and Pokemon White Version 2 entered at 5, thought it's worth noting that even if both of these versions had counted as one entry, the combined sales still wouldn't have been enough to challenge Dishonored for second place. XCOM: Enemy Unknown debuted at 7.
The week's other new entries failed to make their mark on the top 20, with WRC 3: FIA World Rally Championship entering at 27 and Kinect game Fable: The Journey only making it to 37.
Ukie Games Charts provided courtesy of GfK Chart-Track.
| Last Week | This Week | Title |
| --- | --- | --- |
| 1 | 1 | FIFA 13 |
| New Entry | 2 | Dishonored |
| New Entry | 3 | Pokemon Black Version 2 |
| 2 | 4 | Resident Evil 6 |
| New entry | 5 | Pokemon White Version 2 |
| 4 | 6 | Just Dance 4 |
| New entry | 7 | XCOM: Enemy Unknown |
| 3 | 8 | Borderlands 2 |
| 5 | 9 | F1 2012 |
| 8 | 10 | The Elder Scrolls V: Skyrim |
| 10 | 11 | Sleeping Dogs |
| 9 | 12 | PES 2013 |
| 11 | 13 | Forza Motorsport 4 |
| 7 | 14 | Rocksmith |
| 12 | 15 | New Super Mario Bros. 2 |
| 13 | 16 | Gran Turismo 5: Academy Edition |
| Re-Entry | 17 | Call Of Duty: Modern Warfare 3 |
| 6 | 18 | NBA 2K13 |
| 14 | 19 | Lego Batman 2: DC Superheroes |
| 16 | 20 | Dead Island: GOTY Edition |