DeNA to release Molyneux's GODUS
The successful Kickstarter-backed game's mobile versions will be distributed worldwide; Molyneux also tells us he fears consoles are "becoming a hobby"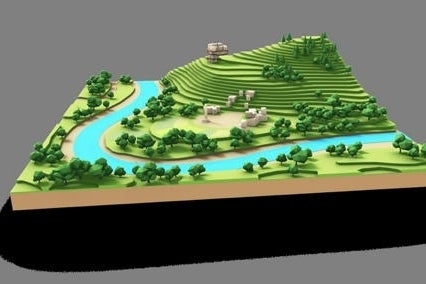 The great game designers of the industry are heading to mobile platforms: Sid Meier has released Ace Patrol for iOS; Will Wright is aiming for mobile with his newest design; Warren Spector has discussed his interest in mobile games; and now Peter Molyneux, creator of the god game genre, has announced a deal with mobile game giant DeNA to distribute GODUS. Molyneux's studio 22 Cans successfully gathered funding for GODUS from Kickstarter late last year.
"For me, this is where gaming really should be," Molyneux told GamesIndustry International. "This is where the home of gaming should really exist. When you make a game as a designer, you always have in the back of your mind that 'People are going to love my game, and they're going to get involved in the world, and it's going to form part of their life.' It's only now that we have these devices in hundreds of millions of people's hands that we can do that."
The GODUS game is being designed for PC, Mac, iOS and Android. DeNA will distribute and market GODUS when the mobile game is released for Android, iPad, iPhone and iPod touch devices. The game will also utilize DeNA's Mobage mobile social games platform in Western territories, Japan and Korea.
The decision to publish through DeNA was, in part, due to Molyneux's recognition that "You could publish it yourself, but that is a distraction."
"What you're trying to do as a design team is something that will delight and engage the world. It was easy to enter into discussions with DeNA. As a global leader in developing and publishing mobile games, DeNA is the ideal partner for us to collaborate with on the launch of GODUS. Their breadth of expertise working with second and third-party game developers is invaluable as we prepare for the release of GODUS on mobile devices," he said.
"I find my Wii U crushingly disappointing"

Peter Molyneux
The god game genre is new to mobile platforms, and Molyneux feels the touch interface lends itself to the genre. Players use their fingers on the screen to mold the landscape and watch the inhabitants respond. There are other worlds and rival gods to face and to challenge, using the power to cause earthquakes, volcanoes or tornadoes, which can be unleashed upon your foes; you can also send armies of devoted followers into battle against other players.
"It's an honor to have the opportunity to work with Peter again on the launch of GODUS," said Clive Downie, CEO of DeNA West. "Our team is looking forward to working with 22 Cans on a game that we know will set a new standard for the mobile generation."
Molyneux also had time to comment on the newest consoles. "I find my Wii U crushingly disappointing," he said. Molyneux is worried about the reception for new consoles from Sony and Microsoft, fearing that they might have trouble attracting a wide audience. "I'm a huge console fan, but I fear it's becoming a hobby, like hi-fi enthusiasts," he added. He doesn't see the innovations in the next-gen consoles that will really affect game design, not to the same extent that mobile platforms have with touch screens, numerous sensors, and a massive audience that dwarfs the console market.