DeNA and Spicy Horse team up for mobile Hell Invaders
Spicy Horse's Hell Invaders is coming to DeNA's Mobage platform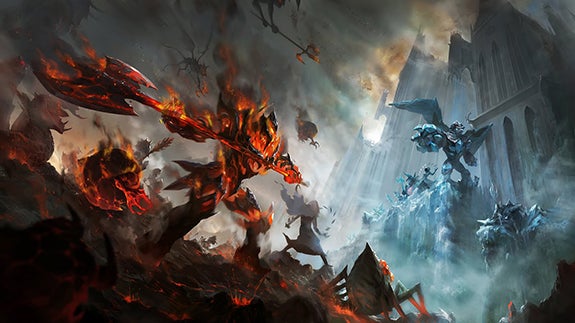 American McGee's Spicy Horse Games and mobile publisher DeNA have announced a collaboration on the developer's previously announced mobile title, Hell Invaders. The partnership will see Hell Invaders published on DeNA's Mobage social game platform.
"We here at Spicy Horse are really looking forward to our partnership with DeNA on Hell Invaders," said Spicy Horse studio head American McGee. "It's not very often we get a chance to suck magic knowledge of successful development directly from the brains of such awesome hosts. Combining their DNA with our already bizarre flaming horse form will result in something awesome or hellish - or both!"
"American McGee's delightfully twisted creative mind combined with Spicy Horse's high-quality visuals and production brings together some of the most intriguing elements for an epic mobile game," said DeNA West senior director Barry Dorf. "DeNA is excited to work with American and the team at Spicy Horse studio that have for years been recreating and reimagining ancient folklore to bring a fresh and twisted new experience to gamers. Get ready for Hell Invaders as you won't want to miss this dark fantasy tactical RPG enhanced by the best elements of the card battle genre."
Hell Invaders is only a working title and the game does not currently have a release date.