DeltaDNA: In-game ads beginning to catch IAP as viable revenue stream
Study indicates that both casual and core mobile free-to-play games are making an increasing percentage of their revenue from ads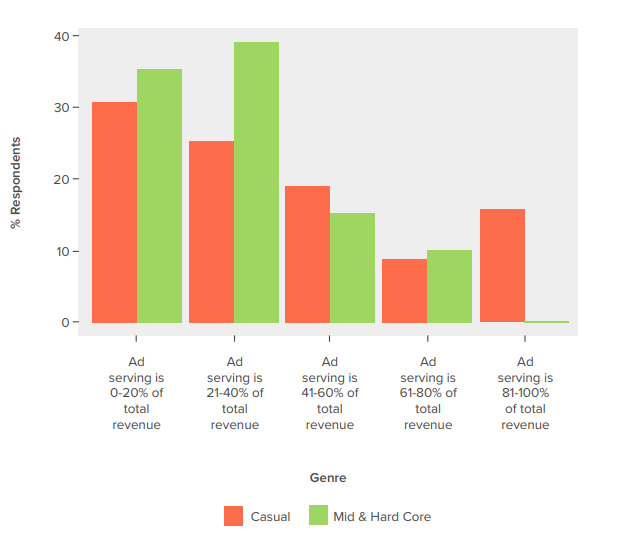 The viability of ads as a revenue source for mobile, free-to-play games may be growing closer to standing toe-to-toe with that of in-app purchases. Both casual and core games saw a shift this year in the percentage of their revenue that came from ads, and 16 percent of casual games are relying on ad revenue almost entirely.
DeltaDNA has published its Ad Survey results for 2018, showing the data from a survey of 336 developers of free-to-play mobile games over a period of 12 months. The survey showed that while the majority of both casual and core games are still deriving half or more of their revenue from in-app purchases, ad revenue is becoming increasingly viable.
The majority of casual game developers (56 percent) make less than 40 percent of their revenue from ads, but 16 percent derive 80 percent or more from the same source. That's a stark increase from last year's survey, where only 10 percent of casual games fit into that category.
As for core games, 70 percent of developers survyed said their games made more than 20 percent of their revenue from ads - up from only 50 percent reporting the same amount last year.
Other interesting findings by DeltaDNA include a number of tidbits about ad types and usage. For example, rewarded video was the most popular type of ad used (nearly 70 percent of core games and nearly 80 percent of casual games), and while 33 percent of respondants only showed one ad or fewer per session, an increasing amount are showing five or more ads per session - with casual games employing more aggressive ad strategies than core games.
By combining all their responses, DeltaDNA determined there was an 11 percent increase in the fraction of revenue coming from ad overall - countering what previous surveys had seen as a downward trend in ad revenue's share of the ratio.