Defiance show Syfy's most-watched scripted premiere since 2006
The show tied to Trion's newest MMO is off to a good start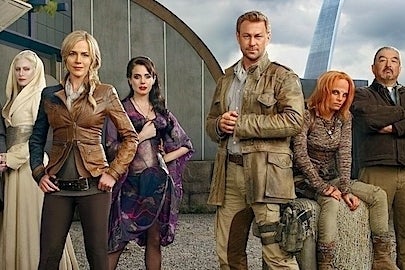 Syfy's Defiance has become the network's most-watched scripted television series premiere among the lucrative demographic of Adults 18-49. 1.3 million people in that demographic watched the show's premiere last night, pushing Defiance above of Syfy's previous best, 2006's Eureka. The show was also one of Syfy's best in terms of total viewers with 2.7 million and it beat out 2009's Warehouse 13 with 1.4 million viewers in the Adults 25-54 demographic.
The show is tied to Trion World's MMO third-person shooter of the same name, which launched on April 2, 2013. The game has seen more than six million hours of gameplay since launch, but has had its share of launch week issues. Trion took down the Xbox 360 and PC versions of the game today due to problems with a recent patch, but the game is back up running as of this writing.
Defiance stars Grant Bowler, Julie Benz, Stephanie Leonidas, Tony Curran, Jaime Murray, Graham Greene and Mia Kirshner.