Cryptocurrencies "on the brink of an implosion" - Juniper
Research firm sees further falls likely with market cap of blockchain currencies already 75% down within the last year
Skepticism about cryptocurrencies is spreading. In its latest whitepaper, "Can Bitcoin Bounce Back?", Juniper Research identifies a number of trends that have shown declining fortunes for cryptocurrencies in the last year, as well as factors that could make it difficult for the market to stage any kind of resurgence.
"In short, given our concerns around both the innate valuation of Bitcoin, and of the operating practices of many exchanges, we feel that the industry is on the brink of an implosion," the firm said.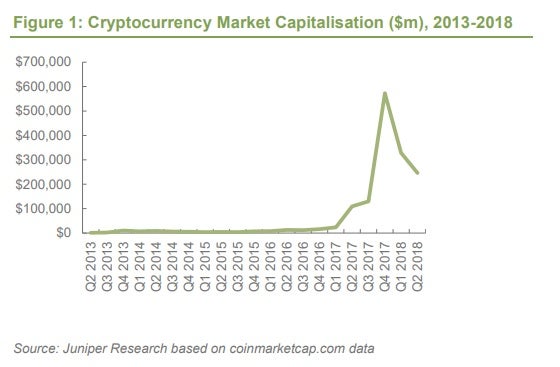 The whitepaper tracks the history of cryptocurrencies from October of 2010, when they were collectively valued at less than $1 million, to a peak of more than $800 billion at the tail end of 2017 and early 2018. Most of that growth came during the course of 2017, when the market capitalization of cryptocurrencies surged 3,300%. This year has seen the collective value of cryptocurrencies shed 75% to about $199 billion as of late September, Juniper said, but that is still well above 2016's total.
The total value of cryptocurrency transactions has also diminished rapidly, according to Juniper. In the first quarter of 2018, more than $1.4 trillion in cryptocurrency changed hands. That was down to $355 billion in the second quarter, and was estimated to be down to a little over $188 billion for the third quarter.
"While the value of cryptocurrencies will remain high for as long as there are individuals who are willing to pay inflated prices for them, it appears that the base of such individuals is in decline," Juniper noted.
Cryptocurrency outfits may have a hard time reversing that decline, as some social media sites have banned cryptocurrency advertising, governmental regulators are subjecting the field to more scrutiny, and a number of major exchanges have been subjected to hacks and accused of manipulating prices through bogus trades.
"Juniper is aligned far more closely with the cryptocurrency sceptics than the evangelists; we do not believe a recovery to the levels witnessed in 2017 is likely," the firm said. "Indeed, we would argue that further falls are highly probable."