CPI still 40% higher on iOS than Android, says study
Clickky study shows Russia & India bucking trend
A new study from Clickky has indicated that customer acquisition is still much higher on iOS than it is on Android, with companies paying around 40% more on average per install on Apple devices.
Territory costs vary, says the Clickky data, but only two territories offer cheaper CPI for iOS than Android: India and Russia. Across all regions, the average cost per install for Android is $0.591053, whereas average CPI for iOS is $0.826842. Italy exhibits both the highest cost for iOS installs and the biggest margin between iOS and Android costs.
"The average CPI rate for iOS games dropped in the beginning of 2016, but recovered towards the end of the year", the report reads. "Similar dynamics are observed for Android, where CPI rate also plunged during summer months, but increased in fall.
"It is expected that the trend will continue and CPI rates for iPhone users will be higher than for Android users. The average selling price for an iPhone has not been changing over the past several years, whereas the price for Android phones has halved. It means, that iPhone still remains a premium segment phone, whose users tend to spend twice as much on applications as Android users. Moreover, iPhone users tend to convert better into paying customers, making in-app purchases and upgrading applications to premium."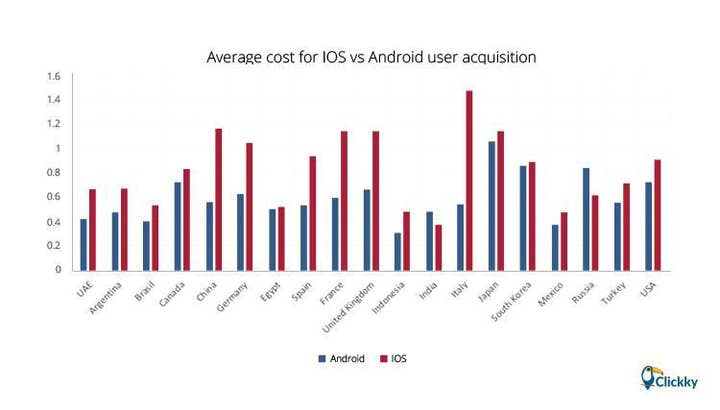 Back in 2015, mobile analytics firm Fiksu reported that Android costs had risen significantly over iOS, making it much more expensive than Apple. That trend now seems to have comfortably reversed.